Solange Shagayo Kagombe, the radio star at Radio Star
February 22, 2021
To mark World Radio Day on 13 February, CFI is inviting you to discover more about the career paths taken by three radio journalists from the Democratic Republic of the Congo, Syria and Tunisia.
In the east of the Democratic Republic of Congo (DRC), Solange Shagayo Kagombe is the manager of Radio Star, L'étoile du berger (Morning star). Although she is now leading the way for young people, especially young women, her journey has been more laborious than that of a shooting star.
A profile by Emmanuel de Solère Stintzy.
"I had two problems: being a woman and being young!" laughs Solange Shagayo Kagombe without any sign of a grudge.
The current manager of ''Radio Star, L'étoile du berger'' in Bukavu (DR Congo) thinks back to the beginning of her career in 2008. She worked her way up the ladder at this station, one rung at a time. Presenter, marketing executive, then finally integrated into the editorial staff and promoted to programme manager. Eight years ago, she was the acting manager, and yet certain male colleagues continued to gripe: "There were men who were old enough to be my father who were reporting to me and they kept telling me that they were more qualified".
Not one to shrink in the face of adversity, Solange gained an International Masters degree in Media Management from the École Supérieure de Journalisme de Lille (Lille School of Journalism, ESJ) in France, to add to the two-year journalism course that she followed at the IWPR (Institute for War and Peace Reporting, an international network of media support organisations).
She was then appointed as the manager on a full-time basis. She showed a fighting spirit that can probably be traced back to her troubled childhood: "Back in 1996, when I was 10, (during the First Congo War – Ed.), I left Bukavu amid the sound of rapid gunfire. I was separated from my family."
During this period, Solange Shagayo Kagombe met many other young people even more deprived than her, living on the streets or in refugee camps.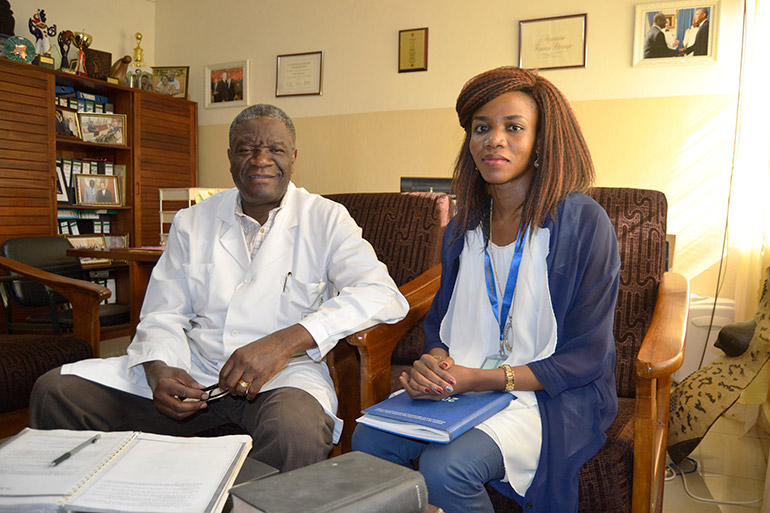 Work twice as hard as the men!
She pauses to reflect and then continues: "There is no doubt that this experience stems from my commitment to helping young people. When I returned to Bukavu in 2006, I wanted to advise young people, to encourage them to be proactive and understand that they could shape their own future without having to become members of parliament".
At Radio Star ("News for young people"), she would go on to find an outlet to spread her message and challenge her shy nature. Her older sister, Sylvie Muray, jokingly remembers that "Solange did not speak much as a child. So when she told us about 'her journalism thing', we asked her what she was going to say on the radio! She has a hidden talent because she is completely herself on the air!"
Solange recognises that she pretty much has a split personality: "I am reserved but when it comes to my job, I speak up when I have to!"
Christian Mihigo, former coordinator at Radio Star, praises "her soft skills, expertise and leadership". With her soft voice, Solange Shagayo Kagombe's responses now mainly reflect her managerial role: "The future of Radio Star, an adept team of driven young people, is what motivates me nowadays. Two of our journalists have received training as part of CFI's Media 360° project. We now have a website that is regularly updated with new articles and our Facebook page went from 2,000 to 10,000 followers".
There's hardly any reason for Solange to change tack: "To be accepted and to succeed, we must work twice as hard as the men! We have to study and grab every opportunity to be the best!"
As the head of 'Radio Star, L'étoile du berger', a station where the staff has an average age of 24, Solange Shagayo Kagombe speaks her mind and leads the way.
In a decade's time...
Just how far will Solange Shagayo Kagombe's lucky star take her? Her older sister, Sylvie Muray, believes she will become "Head of communications at a major media company" in a decade's time. Christian Mihigo, who was previously her coordinator at Radio Star, believes that she will "shake up the media landscape".
Not only is Solange already lobbying for laws to be amended in order to lower the taxes imposed on regional media organisations, she is also arguing to restrict the rules that currently allow almost any politician or political figure to launch their own radio station in the run-up to an election, with journalists receiving neither a salary nor a contract.
"As a result, some journalists are writing in a way that flatters their interview subjects who have paid for their transport", laments Solange. As for where Solange sees herself in 10 years' time? Leading a media or youth support organisation or, if she had the means to do so, "professionalising the Radio Star team or creating another community radio station aimed at educating young people".
---