Soklim Ky, all-terrain journalism
August 24, 2021
The founder of the Thmey Thmey pure player oversaw training for 80 young journalists living in Cambodia. He shares his vision for journalism and his secrets to longevity.
Profiled by Éléonore Sok.
Full of energy and possessing the shrewdness of a man in the thick of the action who is constantly on the lookout for something new, journalist Soklim Ky is the founder and director of the general news website Thmey Thmey ('New' in Khmer). In 2019, as part of the Mekong: sustainable news project, he oversaw the training of 80 journalists living in Cambodia selected following a call for applications broadcast on his platforms. This training took the form of a two day introduction focused on ethics.
Being a journalist is a profession, with its own framework and rules. The most important thing you can bring is intelligence, says the 49-year-old professional sitting in the garden of his offices in Phnom Penh. Today, many young people make posts on Facebook without thinking too much about whether people are interested in what they're writing about, or without analysing their content, and that can have negative consequences, he explains.
Starting out in the French press
Born in Takéo, south of the capital, Soklim began studying in the French department of the Royal University of Phnom Penh in 1992. He already knew some French having grown up around the language, which was still widely used in Cambodia at the time. Five years later, having finished his degree, he turned his hand to journalism. I was a keen reader of the local press, and I must admit that I enjoyed it more than French literature, he jokes. Being a journalist is a profession.
In 1998, he joined the Cambodge Soir, the country's last French-language daily newspaper. That's where I learnt what it means to be a journalist, how to find topics, angles, a style, etc. There was no local journalistic style to speak of, so I drew inspiration from the French and English press and adapted it to a Cambodian audience, he explains.
After leaving the editorial staff in 2007, he became an RFI correspondent, a position which he held until he decided he wanted to set up his own media outlet.
Soklim, together with Delux Leang, another veteran reporter, had the idea of creating an online newspaper. He tells us, we wanted to change the media landscape: to set up a looser, less politically polarised media outlet. In 2012, having convinced investors and sponsors and obtained a licence from the government, they founded Thmey Thmey.
We started at my house, with two tables and two chairs, Soklim reminisces. Today the editorial staff comprises around 40 employees and around 20 freelancers, the majority of whom have rural and modest backgrounds. The website, which records 200,000 to 300,000 unique visitors per day, publishes 40 to 50 general news articles per day, some short and others providing more detail.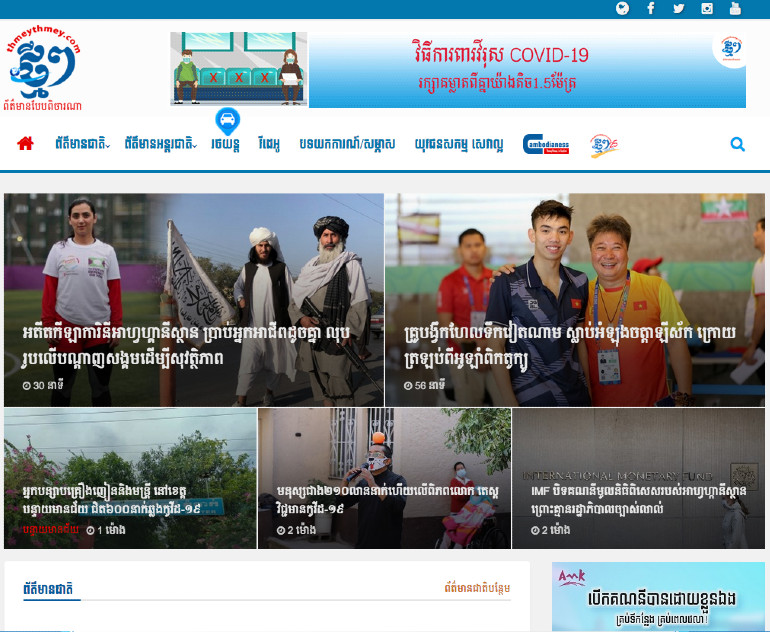 A first collaboration with CFI dedicated to the rural world
In 2018, CFI We wanted to change the media landscapesupported the launch of a new website, Thmey Thmey 25, which is home to videos shorter than five minutes showcasing agriculture, tourism or Cambodian "identity products", such as Kampong Speu sugar bread or Kampot peppers.
We also make content to advertise local producers and include their contact details so that consumers can contact them directly. This promotes the agriculture sector and allows us to combat the rural exodus, he explains.
The website resonated strongly, with 350 videos and a total of 40 million views.
Taking social media by storm
Always quick to innovate, Soklim launched Thmey Thmey's new English section, Cambodianess in 2019, in order to exist on an international market and reach the Cambodian diaspora around the world. According to Soklim, if print media is on its way out then it's even more vital to invest in social media. The majority of our readers find us through Facebook, which is now seen as a primary source of information. What's more, people seem to be reading more than they were before, and reading is a fantastic way to gain knowledge for many people, he says with a smile and without a hint of nostalgia.
The media entrepreneur has not lost his love of getting involved in the action and still sets off on adventures from time to time, for example to make archaeological documentaries in the temples of Angkor.