Naïssem Isabelle Ngardoum: "Mrs Mbappé" lives at 100 mph
32-year old Naïssem Isabelle Ngardoum wears many hats: she is a multimedia photojournalist and reporter, entrepreneur, country coordinator and trainer, media regulation authority consultant, restaurant owner, and co-organiser of the "Miss littérature Tchad" [Miss literature Chad] competition, to name but a few.
Profile by Emmanuel de Solère Stintzy.
Left in the dust... Much like her favourite footballer, Kylian Mbappé, when Naïssem Isabelle Ngardoum gets going it's hard to keep up. "My friends call me 'Mrs Mbappé'. I've been supporting him on social media since the last World Cup because he is young and out there getting things done!" stresses an equally entrepreneurial Isabelle with admiration. However, unlike the star striker of Les Bleus, who is sometimes criticised for being too individualistic, Isabelle, who is the director of a multimedia communication and production company in Chad, has been working for the benefit of others since she was a young girl: "Serving others is what brings me joy. When you share, you also receive." Her younger sister, Them-Nodji Cendrine Ngardoum, reiterates: "I remember Isabelle being a caring and attentive older sister and nothing has changed, she is always there when you need her."
Naïssem Isabelle Ngardoum studied in neighbouring Cameroon from Year 8 to Year 11 before going on to obtain a scientific baccalaureate in Chad. At the time, she had plans to work in the petrochemical industry: "I never dreamed of becoming a journalist, journalism chose me! My older brother and tutor, Mornondé Christian Ngardoum, advised me to choose a career that enabled me to be my own boss. Since his passing, every time I achieve something big in my career, I think of him!"
Isabelle also has a professional qualification from the Higher Institute of Audiovisual Professions (Institut supérieur des métiers de l'audiovisuel, ISMA) in Benin and a master's degree in journalism from the ESJ Paris-Grand Lille (École supérieure de journalisme in Lille, now the Institut de journalisme tous médias, IJTM).
Trainer and content creator
Between her two higher education qualifications, she spent time working at the Centre for Studies and Training for Development (Centre d'études et de formation pour le développement, CEFOD) back in Chad. Père Yves Djofang was the Managing Director at the time: "Isabelle had a significant impact on how we edited our magazines. In the content that she now creates for other organisations, she provides commentary with a catchy tone to her voice. It only takes her two minutes to extract the key information so that it can be shared in short videos on social media. Isabelle is a real asset to the audiovisual industry in Chad, especially when it comes to reaching young people." Naïssem Isabelle Ngardoum is also an entrepreneur and content creator, and launched "Tous Médias Production" [All Media Production] (TM Production: TV, radio, web, written press) in 2021. Her customers are primarily institutions, companies and NGOs: "I am training a dozen or so young freelancers that work in my area of expertise because no one lives forever!" She is also managing other Chadian journalists for CFI as part of the Afri'Kibaaru project: "I despair sometimes at the lack of journalists and their lack of resources, but when someone tells me 'I want to be like you', I get goosebumps! Sharing knowledge and seeing it put to good use gives me such great satisfaction." As a country coordinator for the Désinfox Chad project, Isabelle likes feeling "closer to the media outlets and beneficiary journalists".
"It's up to us as women to set ourselves apart"
UNICEF's Communication Officer, Nancy Ndal-Lah, discovered Isabelle as a young woman moderating a conference for the High Authority for Audiovisual Media (Haute autorité des médias et de l'audiovisuel, HAMA): "I was impressed by her eloquence and professionalism. Isabelle is a rare find. She takes great pleasure in encouraging young people to be better." Naïssem Isabelle Ngardoum responds by saying: "In Chad, lots of women embrace journalism and take up management positions within media outlets. Others consider themselves marginalised, but it's up to us as women to produce high-quality work that sets us apart!" In this same spirit of "valuing intellectual beauty", she co-organised the "Miss littérature Tchad" competition, which took place for the second time in late 2022. Where intellect meets athleticism, "Mrs Mbappé" hopes to establish a football team made up of female journalists.
Her desire to share is not limited to the media: "I opened a restaurant in late 2022 so that I could support three of my younger sisters. They all have degrees, but had been unable to find stable jobs. Before he died in June 2022, my father told me: 'I'm so proud of you, try to help your younger siblings to the top!' Cooking has been a passion of mine since I was 13 years old. It's such an amazing feeling when people enjoy what I make and ask for it again!" A similar feeling to when Kylian puts one in the back of the net.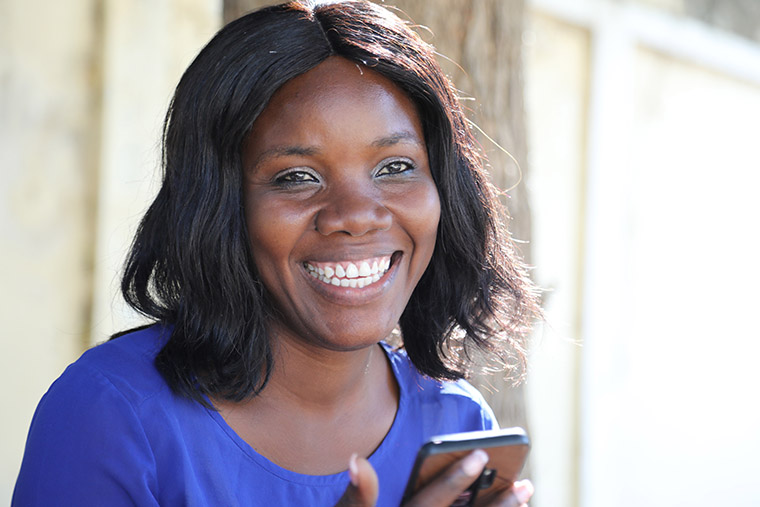 In ten years…
Why choose when you have so much to offer? "In ten years' time, I might have been a minister several times or the CEO of companies working in journalism, animal husbandry or agriculture! Entrepreneurship is on the rise in Chad. In any case, I don't see myself getting stuck in a rut. After all, if you eat the same thing every day, you'll surely get sick of it!" says the owner of the Ngardoumette Délices restaurant, only half joking.
Chosen by Naïssem Isabelle Ngardoum as her "cabinet director" if she were to become a minister, Bbeï Kertemar, a former CEFOD colleague, continues in the same playful vein: "Isabelle should become a minister so she can leave her mark! She could revolutionise entrepreneurship with numerous initiatives and training sessions aimed at boosting women's independence!" The former Managing Director of CEFOD, Père Yves Djofang, encourages his former journalist to not give up on journalism: "Isabelle knows how to combine media and development. In 10 years' time, I'm certain that she will be producing and disseminating this type of content. She will also undoubtedly be involved in training her young journalist colleagues who have remained in Chad."
Cendrine, Isabelle's younger sister, and Souleymane Ouattara, Isabelle's trainer in CFI's Afri'Kibaaru project, emphasise her "independence". "In 10 years' time, I don't know whether she will be managing a media outlet, providing consultancy services to media outlets or working in an international organisation. Isabelle tries her hand at everything, but she needs to slow down a little and deepen her knowledge and understanding in specific areas", suggests her trainer Souleymane, wisely.