Myriam Hemes Njimegne Nkwa: words can cure all ills
Myriam Hemes Njimegne Nkwa (28) is a doctor and activist blogger in Cameroon. Over the moon to live out her dreams every day, the "Smile doctor" enjoys talking to people and curing them.
Profile by Emmanuel de Solère Stintzy.
Medicine and blogging. Science and literature. The twin calling of Cameroonian doctor and activist blogger, Myriam Hemes Njimegne Nkwa, seems to be embedded in her DNA. "My father was a doctor and artist and wrote scientific books and novels", recalls Myriam Hemes, grateful for her dual pedigree. Her younger brother, Arthur Njitchou Nkwa, will testify to this: "When we were kids, as the eldest, she was Mum's helper and Dad's miniature twin. She dreamed of becoming a doctor like him and was already talkative and curious like a journalist!"
Myriam Hemes is currently a field epidemiology resident at the Cameroonian Ministry of Public Health (MOPH-C) and is responsible for monitoring maternal and perinatal deaths. She also actively communicates about epidemics via digital channels. Known as "Doctor Mum" or the "Smile doctor" to her patients, she has retained her love of writing which also burned bright when studying medicine back in the day.
She was the editor of the "Health Sciences Monitor, the first science magazine devised by students at theFMSB(Editor's note: Faculty of Medicine and Biomedical Sciences of the University of Yaoundé I)". After completing her PhD in General Medicine (2017), she obtained a Master's in International Cooperation, Humanitarian Action and Sustainable Development (International Relations Institute of Cameroon/Ca' Foscari University of Venice) and is currently undertaking another Master's in Field Epidemiology at the University of Buea (South-west Cameroon).
Debunking false health information
In 2019, Myriam Hemes saw one of her texts, "Des mots pour guérir des maux" [Words can cure all ills], published in a collection ("Monsieur Paris m'avait dit et autres nouvelles", Organisation internationale de la Francophonie/Éditions du patrimoine).
In this text, the lover of numbers and words describes her experience of working in a clinic in central Cameroon, which sick people seldom visited at the time: "We launched a large-scale campaign to persuade people in the district's ten villages to attend (...). Sick people were treated there and then and some of them were urged to go to hospital to receive more complex care and to get access to services such as vaccinations or family planning assistance (...). Words alone can cure all ills."
Driven by this ideal, Myriam Hemes Njimegne Nkwa founded her association, YOHEDA (Youth for Health and Development of Africa), in 2018. Its activities include health awareness programmes, assistance for elderly people, orphans and refugees, and training of women in leadership and social entrepreneurship. The doctor and blogger provides health information and debunks certain false health information on her YOHEDA blog.
The President of the Cameroon Bloggers Association, Dania Ebongue, believes Myriam Hemes has an infectious spirit: "She was among the first female doctors to show an interest in creating and running a blog. She was voted the best female blogger of 2020 (PLAN Cameroun/Cameroon Bloggers Association). Health is going digital with new applications. Health is life! What are we going to blog about if we won't talk about it?"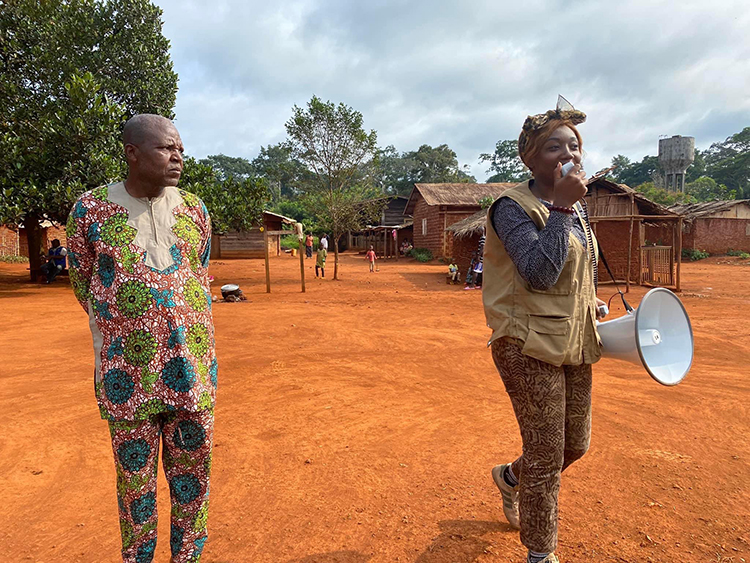 Versatile all-rounder
After being awarded grants and winning another award (United Nations Award for "best blog post" , 2020), Myriam Hemes Njimegne Nkwa conducted a number of health surveys and took part in CFI's Desinfox Afrique project: "I learned to write in a very focused way, use fact-checking tools such as reverse image searches, collaborate with other bloggers and engage the public. I am over the moon to be trying to live out my dreams of helping people and talking to them — just like I hoped I would 20 years ago."
Nevertheless, one of her trainers is advising her to curb her tendency to be an all-rounder: "She could make her communications more professional and set the standard to follow because she can adapt with ease, but she still has too many irons in the fire right now..."
It's a view qualified by Myriam Hemes' former manager, Dr Armelle Viviane Ngomba, an epidemiologist who heads the MOPH-C Department of Epidemic and Pandemic Prevention: "She focuses very hard to achieve results, but doesn't always know how to say "no" and sometimes tries to juggle two tasks at the same time... That being said, her versatility as an effective communicator enables her to find solutions in the medical field."
In ten years…
It's a view that sounds like a warning: "Myriam Hemes has to choose her own path, otherwise she may end up being just another doctor at the clinic in 10 years' time", warns one of her previous trainers. Dania Ebongue counters this by saying that Myriam Hemes "is not someone who should be confined to one area of expertise! Given that she is young, she must keep blogging about her experiences in medicine and community life. In ten years... she has the profile to be a great health administrator, in an NGO for example."
Dr Armelle Viviane Ngomba sees her as a ''successful health manager who will also lead young people or women" in the future. "She should train and empower a team before taking on these responsibilities because I don't want her blog to disappear!"
Arthur Njitchou Nkwa is also predicting good things for his older sister in the future: "an executive at an international body such as the World Health Organization (WHO)".
Myriam Hemes Njimegne Nkwa does not completely rule out the possibility of working for the WHO in ten years' time, nor does she rule out the possibility of still working for a ministry in Cameroon. However, as a civil servant, she is already aware that she cannot discuss certain topics on her blog, such as healthcare governance. Which is where she got the idea of specialising in digital communications: "In five to ten years, I hope to become a leading figure in digital health thanks to the specialised healthcare fact-checking website that I am currently working on. I also hope to have written many books about my experiences."