Mustafa Khalifa: "218", the voice of Tuareg music
This is the nickname of Mustafa Khalifa, aged 35, from Ghat in southwestern Libya. An ardent defender of the Tuareg identity, he directed a short film entitled "Tinndy", to allow the musical art of his community to endure. Profile written by Bérengère Merlot.
In the first images, two women adorn themselves with silver jewellery. They are covered with a "Tabrakamt", a very fine burgundy veil worn by married women, in the Tuareg tradition. One of them is Zalo. She is one of the last representatives, and the only one among the younger generation, of the music of the nomadic Tuaregs: tinndy (editor's note: from the word "tindé", which means "drum").
Aged 43, she is the neighbour of Mustafa Khalifa in Ghat, a city known for its cultural gatherings. Independent journalist Mustafa Khalifa devotes an eleven-minute documentary to pay tribute to this Saharawi female art form, which is on the verge of disappearing. "I like to go back to my roots", he explains. "The Tuaregs are not just a people of the Sahara. They have a very special culture that people must be made aware of, so that it is not lost", continues Mustafa.
"Tinndy" is produced by the Rabsa group, which has existed since 2011, in Ghat. The film was produced by Ghat Media, of which Mustafa was one of the founders in 2020, along with Omar Saleh and Aziz Alhashi. He is currently the director there. Although he studied chemistry, "Mustafa was excellent at reading and writing", says his brother, Bachir. He is passionate about journalism and began working for Jarrama News Agency in 2013. He then served as a correspondent for the Libya Herald, an English-language newspaper established in 2012, which shares news via its website. From 2015 to 2022, he worked for the channel 218 (editor's note: +218 is the international dialling code for Libya). The channel ceased to exist in 2022 but Mustafa is still nicknamed "218", on account of the many reports he produced for that media outlet.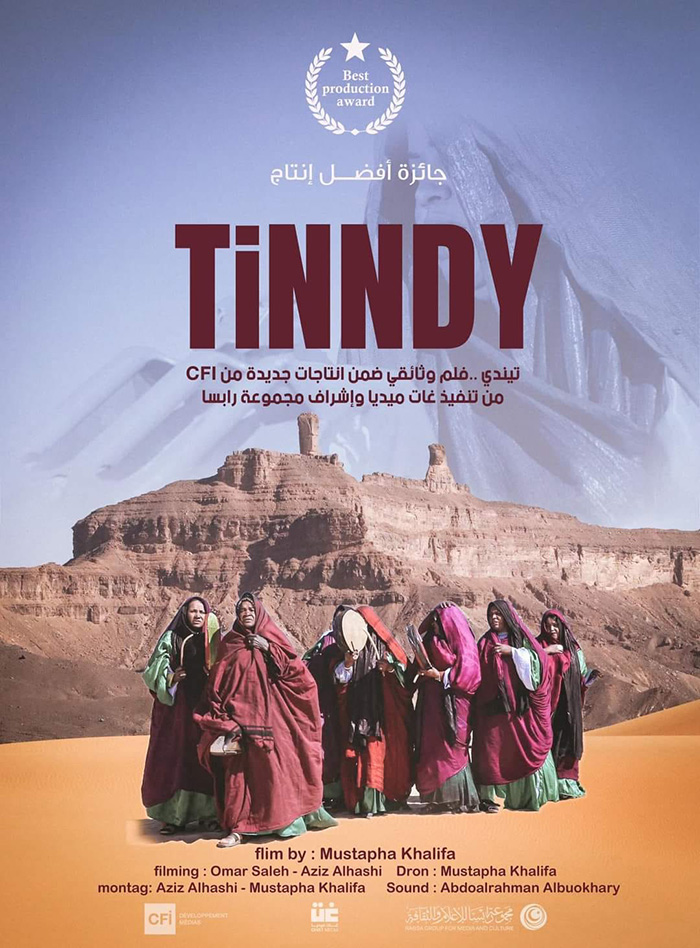 Passing on this culture
As the sole representative from Libya for this first Intajat Jadida group, Mustafa won the Coup de Cœur (Judge's Favourite) award for "Tinndy" on 12 June 2023. "An international award is a source of pride for Ghat", says Omar Saleh, a colleague of Mustafa and a journalism trainer.
Next, Mustafa would like to continue in this direction: "I'm a desert person. My vocation is passing on this culture". This chimes well with Bachir's description of him: "Mustafa was the eldest. He was very calm and earnest and took on many responsibilities".
"Tinndy" was broadcast on Libya Al Ahrar, the leading Libyan TV channel, and was well received, which has given him confidence. "Mustafa will continue to make great documentaries", Omar Saleh believes. Indeed, as part of the Intajat Jadida project, Mustafa plans to create two more films on Tuareg musical art before the end of the year: one on tamlkwit (the music of settled Tuaregs) and the other on the imzad (a stringed instrument).