Mariam Ouédraogo, spokesperson for the "voiceless"
Mariam Ouédraogo comes from the Nord region of Burkina Faso, an area afflicted by insecurity, and is a journalist by profession. Having won the prestigious Bayeux Award in October 2022, she is the pride of Burkinabe journalists and a model of selflessness and perseverance for her peers.
With her natural, tightly coiled hair, a symbol of freedom and self-affirmation, Mariam Ouédraogo works as a journalist at Sidwaya, a Burkinabe national daily newspaper. Her passion for journalism started from an early age. She took her first steps in the profession in 2008 as an intern at the press agency, Agence d'Information du Burkina having failed to pass the entrance exam for the Institut des Sciences et Techniques de l'Information et de la communication (Institute of Information and Communication Science and Technology, ISTIC). "Following that first setback, I swore to myself that I would never again walk by the school doors unless I was about to walk through them as a student," she recalls with a smile. Ultimately, her determination paid off and she landed a place at journalism school in 2011.
According to some of her colleagues, Mariam is a strong personality. Others describe her as humble and resilient, due to her difficult journey. Despite the health problems that forced her to step away for a while, she remained fearless, courageous and true to her goals.
Strong links with displaced women
Sensitive to the suffering of vulnerable people, in particular those affected by the security crisis, she has become the spokesperson for the "voiceless". "I have forged strong links with internally displaced women. We have become like members of one big family. They don't hesitate when the opportunity arises to ask me how things are going," she explains.
She then goes on to say: "My doctor asked me to step back from them a bit as it was affecting my health. But I told him that they are part of me, so he had to accept it!"
Her reports (Axe Dablo-Kaya : la route de l'enfer des femmes déplacées internes [From Dablo to Kaya: the road to hell for internally displaced women] and Victimes de viol terroristes : des grossesses et des bébés lourds à porter [Terrorist rape victims: pregnancies and babies – a heavy burden to bear]) won her the Bayeux Award for war reporting and the Marie-Soleil Frère Award in the written press category.
She is the first African woman to win the Bayeux Award.
At 37, she has already collected 16 awards!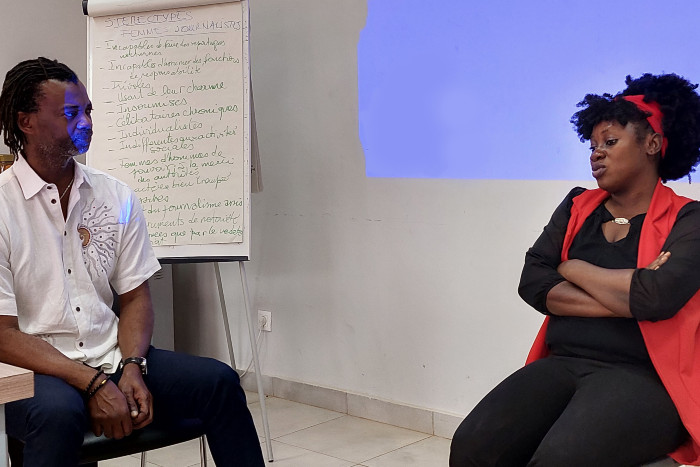 A patient and resilient worker
But, as the young woman herself says: "I don't wrote to win awards".
Writing is her only hobby. She writes for pleasure and to tell people's stories. She mostly covers subjects associated with the situation of women, vulnerable people and children. She is hard-working and uses her holiday to research information and write. On returning from a reporting trip, she works with speed to draft her article as quickly as possible.
Mother to a six-year-old daughter, she believes that being a woman should not be a handicap to a professional career. In her opinion, being a woman is actually an asset in journalism. "When covering sensitive subjects, victims are more trusting of women," she believes.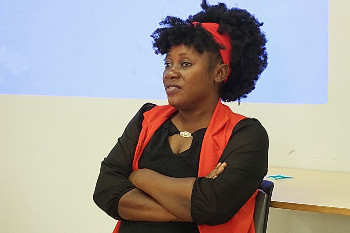 However, she recognises that, in journalism, there are often prejudices and, if you are not patient and resilient, you may end up dropping out. Mariam owes her success to her mentors, who believed in her even when she was still an intern, and her mother and daughter, who give her the energy to advance.
The journalist spoke about her journey as part of the MédiaSahel pour Elles [MediaSahel for Women] training sessions on gender-sensitive management. She will be staying with the project over the coming months, coaching internally displaced women to help them create podcasts to tell their stories.