In Mali, special radio shows developed by the Union des radios et télévisions libres (URTEL) are talking to young people about COVID-19
October 15, 2020
Working in partnership with the French Media Development Agency (CFI), URTEL embarked on the production of 12 radio shows on the subject of the coronavirus. The aim of this programme was to contribute to informing the populations of several regions of Mali, while helping them to manage the stress associated with the pandemic. Produced in five languages, these shows were broadcast by a network of 120 partner radio stations. 
In May 2020, URTEL launched a series of information programmes with the aim of raising awareness of the coronavirus among the populations of the Kayes, Koulikoro, Sikasso, Ségou, Mopti, Timbuktu, Gao and Kidal regions and the district of Bamako.  Created in partnership with CFI as part of the MédiaSahel project, these shows were broadcast on a network of 120 partner radio stations, allowing them to strengthen their media offer while making a significant contribution to raising awareness. 
The principle was simple. Three topics relating to the problems that the most vulnerable populations could face were defined in advance: "Perception and application of preventative actions", "the impact of COVID-19 on women's activities", and "the impact of COVID-19 on the local economy". People were called upon as resources for each topic and priority was given to an interactive format that allowed listeners to ask questions freely. Each of the topics was addressed once per month and the shows were produced in five languages (Bambara, French, Fula, Songhay and Tamasheq). Each partner radio station was therefore able to broadcast the shows in the languages most widely spoken amongst the populations living in its coverage area.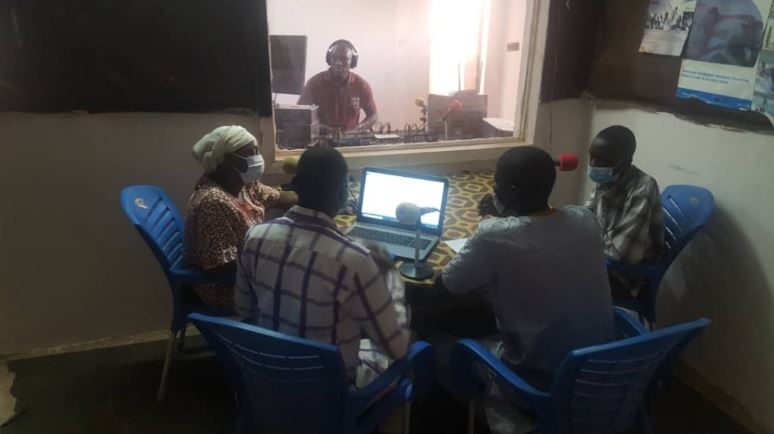 According to Ali Ibrahim, director of Radio Naata in Gao, "the populations in the north of Mali are thirsty for knowledge and these shows came at just the right time. They have allowed people to better understand the disease and to be informed. People liked them because they touched a lot upon their daily lives, and now some people are even asking us for more, so we succeeded in what we set out to achieve". 
The broadcasting of programmes in local languages was very much appreciated by the listeners. It made the populations in the target regions feel like they were being taken into account, included in the discussion and, above all, being better informed. 
---
MediaSahel COVID-19 supports the production and broadcasting of reliable, quality content on the coronavirus, by adapting media content already produced through the MediaSahel project and by offering new information and content to increase awareness.
The organisation benefits from additional funding from the French Development Agency (AFD), as part of the French "COVID-19 – Health in Common", initiative.