Madjissembaye Ngarndinon: hard-working, tireless, talented
Even as a child, Madjissembaye Ngarndinon was a brilliant yet humble grafter. Now aged 33, the Director of Publication at the online newspaper, Tchadinfos.com, loves to inform his fellow citizens and train young journalists.
Profile by Emmanuel de Solère Stintzy.
As diligent in the fields as in the classroom. "At the age of 6 or 7, I started working in the village to help my mum. At school, I was shy, but always top of my class," Madjissembaye Ngarndinon recalls, with an awkward laugh. The current Director of Publication at the online newspaper Tchadinfos continues: "It shaped my character. Even today, I only sleep for three or four hours per night. I'm always looking for something to do."
His calling to be a journalist was not, it seems, an accident... "When he was about 10 years old, Madjissembaye would take his father's radio and listen to it in secret throughout the night. He also loved to read. This later translated into a visual richness in his first reports, in his descriptions of the landscapes, of people's moods... He made people want to meet up with him in the field. Once, a listener who had come to his radio station (editor's note: Radio FM Liberté) remarked in astonishment: 'you're so small to be doing all this reporting!'" recalls his little brother Rimeta Ngarndinon.
"I wanted to know what was happening in my country and throughout the world. And it's a habit that I have never lost. Books, textbooks, newspapers... I read everything I could get my hands on so I could improve my language skills, with the dictionary by my side. I wanted to learn, I always wanted to learn," explains the curious and studious elder brother.
After completing his scientific baccalaureate, Madjissembaye Ngarndinon found himself, to his surprise, studying information and communication science and techniques at the University of N'Djamena: "I was surprised because the science offered by the university was not what I was expecting, but I liked it, because many of our lecturers were already working as journalists and were able to give us an interest in the field."
He gained a bachelor's degree in 2013, and then a master's degree in 2019. Between the two, he worked as the Editor-in-Chief for La Cloche, the newspaper of the Young Christian Students movement (Jeunesse Etudiante Chrétienne) and then as the Editorial Secretary at Notre Temps. Alatara Fortunat, a friend and former colleague of Madjissembaye, recalls: "He brought new life to La Cloche. He was already a very humble, but hard-working person, who loved to learn from others. He then went on to become an excellent editorial secretary. At Notre Temps, he corrected our articles objectively and skilfully."
"We are useful on a day-to-day basis"
Madjissembaye Ngarndinon quickly moved up the ranks: Editor-in-Chief at the newspaper Abba Garde (2017 to 2020), then Editorial Secretary and, since January 2021, Director of Publication at the online newspaper Tchadinfos.com. "He is meticulous and brought the quality I was looking for, in terms of both the range and quality of the stories. He was more of a newspaper journalist, but worked really hard to adapt to the culture of digital journalism. But I do find that he isn't strict enough as Director of Publication, because he doesn't like to offend people, even though running a media outlet is like the military!" says Mamadou Djimtebaye, Founder and Managing Director of Tchadinfos.
Diplomatic with his team, and a fan of the phrase "what you're saying isn't wrong, but..." the young Director of Publication smiles as his Managing Director's words: "I do sometimes bang my fist on the table, but I prefer to get people to understand their responsibilities without treating them like children. On the journalism side, I need to keep up with new technologies, such as using video. With CFI and theAfri'Kibaaruproject, we took part in a training session on the Sustainable Development Goals (SDGs), which is helping us to create new and interesting content for the public. We are hoping to create a new section on the environment, as we are suffering from the full force of climate change."
Madjissembaye Ngarndinon is still firmly convinced of the social value of his profession: "The benefit of our online media outlet is interactivity. People leave comments. By reading them, we can see that we are useful on a day-to-day basis, when we provide information on floods or on how to avoid a certain illness."
As his passion grew stronger than ever, this former student decided to become a teacher of journalism and communication at the Emi Koussi private university and the Institut Al Marifa in N'Djaména: "It is a real pleasure to share what little knowledge I have of this profession with these youngsters." Clearly though, humility is still the watchword for this hard worker.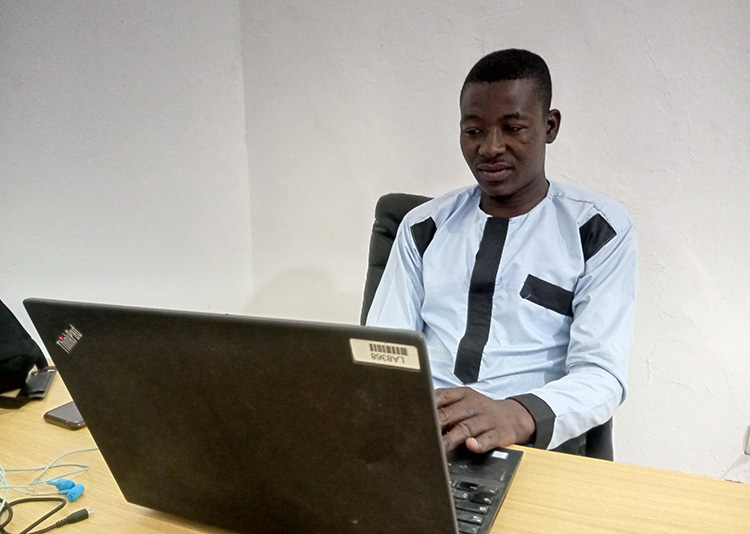 In ten years…
What will Madjissembaye Ngarndinon be doing in ten years? His former colleague Alatara Fortunat has a little idea: "He might become an expert in communication, but, actually, I think he'll be the head of a media group, because he has a thing for facts. Whether it's written press, radio, investigation, field reporting... he has a talent for them all!"
His little brother, Rimeta Ngarndinon, takes pretty much the same view: "If he has his own media group, Madjissembaye will be able to do quality work, with his own guidance."
His current Managing Director at Tchadinfos.com, Mamadou Djimtebaye, sees things somewhat differently: "He may well create his own media outlet, but I'd prefer to keep him as he's a valued employee. I hope that together we can bring to fruition some big projects that we have 'in the pipeline'..."
The Managing Director stays tight lipped about these mysterious future projects. Madjissembaye Ngarndinon, himself, reflects at length on what he will be doing in 10 years, before offering up a smile and saying: "I feel at home at Tchadinfos.com, and that I'm having a real impact on the life of the people in Chad. For the moment, I see myself continuing here. I don't know whether I'll create my own media outlet. You never know what tomorrow will bring..."