Grâce Ngbaléo, "Hang in there, girl!"
Grâce Ngbaléo, a 31-year-old journalist who actively defends women's rights, is a model of determination for other Central African women to aspire to these days. This digital media trainer is encouraging girls to consider the future-oriented careers offered by digital media and to show no fear.
Profiled by Emmanuel de Solère Stintzy.
Was it fate? My parents say that when I was young, I used to be a chatterbox, like a radio!, chuckles Central African Journalist, Grâce Ngbaléo. Grâce didn't seem to be much different in her teenage years. In my final year at school, I followed the news and women's programmes on the radio. Hearing that our place was not at home but at school convinced me that I needed to harness the power of media to champion the interests of women.
Her younger sister, Marie Danielle Ngbaléo Opito, isn't shy in showing her admiration, Yagra has always been a caring big sister who looks out for me. She was so bright at school. These days, she is still committed to empowering women. It is so rare to come across somebody who thinks so much about others! A gifted student, Grâce completed a Master's Degree in Philosophy at the University of Bangui. It was challenging because women were being overlooked in that field, she explains. She then went on to complete a Bachelor's Degree in Information and Communications. My parents wanted me to study law but they respected my decision. My Dad is now always telling other people to follow the example that I set!
Fellow journalist, Prince Stivene Namzoka, recalls what Grâce was like as a student. She was bold and worked hard. She was one of the few girls in our year who went on to become a successful journalist.
Degrees didn't cause Grâce Ngbaléo to shift course. She became the editor of Radio Notre Dame (RND), which is where she had worked previously as a presenter while she was studying. She was then presented with "a new challenge" — training for fact-checking. We live in a digital world, where our voice can transcend Central African Republic borders. Yet rumours are rife in our country and there is a lot of misinformation. Traditional journalism is at risk. Nowadays, I take a step back and the first thing I do before liking or sharing is check the information by using the tools I was taught about.
Accomplish the same things as men
Grâce has since become a trainer herself. I was asked to prepare and lead a session during a CFI trainer training event in Dakar. I had never done anything like that before. Nowadays, I'm in my element, she says, while looking at her fiancé. Smiling back at her, he explains, I encourage her, no matter what she does, even if some men do not want to see women make progress. I implore these men to change their mindset because the world is changing!
Grâce Ngbaléo certainly hasn't changed. I am actively involved in the I Londo Awè ! platform ("We are still standing"), the purpose of which is to defend women's rights, promote female leadership and involve women in the peace process. Our campaigns advocate for women to be able to attain decision-making positions and for compliance with the gender equality act. The platform's Coordinator and Spokesperson, Rosalie Kobo-Beth, says, Grâce is an warrior of a young woman who appreciates honesty. She is sometimes quick to anger when she feels like nobody is listening to her.
This comment draws a smile from Grâce. Sometimes I can be a bit intimidating to men because I don't like chaos! For any girls out there, my advice is to work, enjoy what you do and tell yourself that you can accomplish the same things as men. However, this is only possible if you are determined and show no fear. You will get there in the end.
The first impacts are already evident. Other women are keen to follow in Grâce Ngbaléo's footsteps and are beginning to get involved in digital journalism. Around ten women are undergoing training in fact-checking and several others are active online on their blogs and socials. It makes me proud — the torch is being passed down. I am encouraging other girls to get involved because sometimes they have the ability but lack the belief.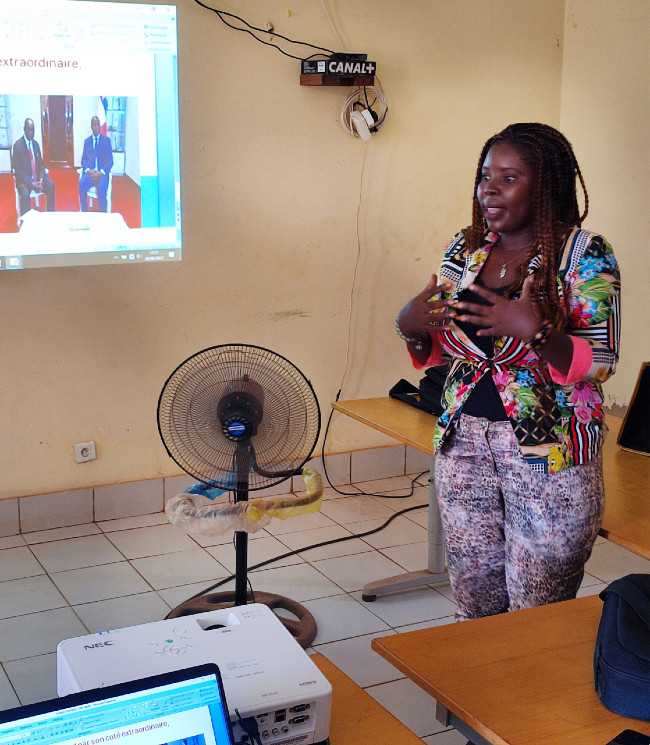 In ten years...
Marie Danielle believes that the best is yet to come for her older sister, Grâce. In ten years, Grâce will be an international journalist. She will bring about change in the daily lives of women. They will feel important, they will become more enterprising and they will believe that they can defend themselves, including against sexual abuse.
Fellow journalist, Prince Stivene Namzoka, is equally optimistic. In my mind, she will become the head of a human rights organisation or she will make it in mainstream media, such as at Le Figaro or Radio France Internationale. Friend, Rosalie Kobo-Beth, cannot picture a future in which Grâce is not successful. Unless fate has something else in store, this woman, who refuses to ever admit defeat, will become a powerful female figure in the Central African Republic. Who knows, maybe she will set up her own business?
The groundwork for such a project seems to have been laid already. I would like to launch a business with a digital training centre for journalists, especially female journalists, and an online TV channel to invite them to come and discuss what they have been doing in local languages. This business will be called "Fato", short for "Femme accroche-toi!", or "Hang in there, girl!" in English. I chose this name because some women are initially up for the challenge but end up backing out, explains Grâce, who appears ready for this new challenge like never before.