COVID-19 and MédiaSahel: supporting local initiatives to help populations
October 14, 2020
The MédiaSahel project has lent its support to local initiatives aimed at raising awareness of and preventing COVID-19 in Burkina Faso, Mali and Niger. Led by young people, these campaigns were primarily centred around raising awareness in the local area, providing support to vulnerable people and producing media content (short awareness raising messages, interviews, web videos and sketches). 
More than 300 application dossiers received. The huge success of the call for applications launched in May 2020 by the MédiaSahel project, which aimed to allow young people from Burkina Faso, Mali and Niger to contribute to raising awareness among local populations of the challenges posed by the coronavirus, is testament to the desire of young people in the Sahel region to play an active role in fighting the pandemic.  The selected projects, ten per country, benefited from technical and financial support from June 2020. 
In Burkina Faso, a project that aims to raise awareness through the medium of theatre was set up by Harouna Gouem, a young director and improvisational theatre coach. "This call for projects presented me with an opportunity to express my views on the pandemic and above all to make my contribution to the fight against the disease. I was convinced that I could bring something more to the fight against the pandemic with my artistic discipline". His project, which also saw the involvement of associations and the media, consisted first of all of reaching out to young people in the poorly developed areas and outlying districts of Ouagadougou to present 5 to 10 minute theatre performances on the dangers of the coronavirus and ways in which they can protect themselves from it.
A discussion was then held between the audience and the troupe of actors. The aim of this "forum theatre"was to encourage young people to express their views on the pandemic, with each performance dealing with a topical theme. Performances took place in kiosks, restaurants, outdoor cafés and other meeting places in the neighbourhoods. They were also broadcast live by a partner radio station, as well as via Facebook Livevideos to ensure that they could reach the greatest number of people while complying with the barrier rules.
For Harouna Gouem, also known as the "journaliste Facebook" (Facebook journalist), this activity was a great success. The audience attending the show in person engaged extremely well with the discussions and a great deal of very positive feedback was received via social media. "I receive many messages of congratulations. I have gone from 350 subscribers to 5000 since starting this activity. Internet users are still sharing, liking and commenting on the videos, which are still available on my page. Some of the videos have been viewed more than 200,000 times, which is phenomenal". Messages that are still visible on Facebook are testament to the enthusiasm with which the performances have been met: "Now that's what I call professionalism", "Very nice, and the forum proves that the message is being put across without too much tchinka-yika" (going in one ear and out the other); "I'm really pleased to see that you are raising awareness in the local area."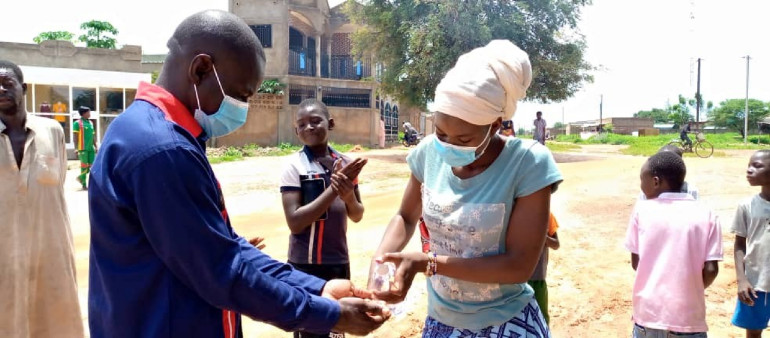 Some of the videos have been viewed by an especially large number of people. The one entitled "Campagne politique et Covid-19" (Political Campaigning and COVID-19), for example, has been viewed more than 233,000 times, has been shared by almost 4000 people and been commented on 257 times. Building on this success, the "journaliste Facebook" team is planning to continue the project with a new theme of "Reprise des cours et Covid-19" (Going back to school and COVID-19).
In Mali, Oumar Barry has launched a project aimed at raising awareness among people living in the Yélimané Cercle in the Kayes Region. Following a training session with a healthcare professional looking at the challenges posed by COVID-19, twelve young association members were handed tools to allow them to provide information and raise awareness. Short radio messages were recorded in three languages (Bambara, Soninke and Fula), broadcast three times a day during prime time for two weeks and shared on partner associations' WhatsApp groups. Radio shows were also produced and hosted by young people in an interactive format that enabled listeners to contribute to the discussions by talking about their experiences or by asking questions. Thanks to these shows, which were also broadcast at peak listening times, the partner radio stations estimate that each show reached almost 100,000 listeners, or more than half of the population of the Yélimané Cercle, which is estimated at around 180,000inhabitants.
Oumar Barry, the project leader, had some very positive things to say about this initiative: "We felt the involvement of the young people of Kayes and the population in general. In addition, the radio stations we worked with did not offer news bulletins on the disease, but since the young people hosted the shows, we have noticed an increase in awareness and now good information is being broadcast. The project also gave rise to other initiatives; the young people who supported us were members of the Junior Chamber International and after our project, they commenced further awareness-raising activities to support the populations. We are delighted by this". 
In Niger, the ONG, Rassemblement d'appui au développement durable inclusif (Raddi), which was co-founded by Safiatou Moussa, set up a project aimed at raising awareness amongst disadvantaged youngsters and providing them with physical assistance. The project centred around producing COVID-19 prevention messages in the various different languages of the Zinder region and having them broadcast on community radio stations on a regular basis. "It was important that we assisted this target audience, because being poor, they often don't have access to information or the means to understand the content," explained Safiatou Moussa. She continued by explaining that "the population was very receptive, people enjoyed the short messages, they even became a kind of entertainment that the children didn't want to miss as they wanted to repeat the messages and boast that they were the first to understand and apply them. This resulted in some parents quickly taking an interest in them too".  
---
MediaSahel COVID-19 supports the production and broadcasting of reliable, quality content on the coronavirus, by adapting media content already produced through the MediaSahel project and by offering new information and content to increase awareness. The organisation benefits from additional funding from the French Development Agency (AFD), as part of the French "COVID-19 – Health in Common", initiative.