Boubacar Kanté, an enlightened journalist who avoids the spotlight
Trained in philosophy, Boubacar Kanté, 48, has always had a hunger for knowledge and sharing ideas. Despite having more than 20 years of experience as a journalist at the Agence de Presse Sénégalaise (Senegalese Press Agency, APS), he has humbly become a student again to learn about fact checking.
Profile by Emmanuel de Solère Stintzy.
Boubacar Kanté uses his initials, BK, as a modest signature, just like any other agency employee. The "relative anonymity" suits the 48-year-old, who has worked as a journalist at APS since 2002, perfectly. "I don't want to be in the spotlight. Some people even considered it impossible for me to become a journalist because I never put myself out there. I also have terrible diction," he explains, taking great care over his words, but still becoming a little convoluted.
Although he lacks confidence when speaking, BK's writing would not be out of place among the works of Enlightenment philosophers. "He has really cultivated his skills. His discipline and mastery of language are near faultless. His writing almost always comes out on top," observes Amadou Samba Gaye, his news and content manager at APS. A taste for historical letters.
Even as a child, Boubacar Kanté enjoyed "reading books without necessarily understanding them". He still remembers the letter he wrote to his uncle when he was in primary school. His uncle couldn't believe that Boubacar had written it by himself; the sentences were so well written. His results in the sciences, however, told a different story: "I completely failed maths in my baccalaureate! I was scolded because this result prevented me from achieving a 'mention' (merit) overall."
Beautiful writing, deep insights
The young scholar with a love for deep thinking went on to study philosophy for five years before graduating with a degree specialising in modern and contemporary philosophy and a master's degree. His choice of path is in part owed to one of his teachers in his hometown of Tambacounda in eastern Senegal: "These extraordinary studies allowed us to discuss the most unlikely topics or highly taboo subjects. They taught us how to accept other people's viewpoints." Since he lacked the financial support necessary to pursue philosophy, Boubacar ultimately turned to journalism, which he sees as closely related: "I told myself that both of these disciplines were an attempt to explain the world."
Diamé Signaté, a childhood friend, was not shocked when Boubacar turned to journalism: "At university, he would buy newspapers such as Jeune Afrique or Le Monde. He would tell me all about the nobility of journalism. He continues to write beautifully and provide deep insights to this day."
He had only just obtained his higher education qualification in journalism from the Centre d'Etudes des Sciences et Techniques de l'Information (Centre for Information Science and Technology Studies, CESTI) when he was recruited by APS. Since 2002, he has supervised a number of interns, including Elhadji Souleymane Faye, who has since become a colleague: "He always has time to teach. It's part of what makes him a tireless journalist!"
"BK" was also the first mentor of "VO", Valdez Onanina, who went on to become editor-in-chief at Africa Check's French-speaking office, a journalist and a trainer for CFI: "He welcomed me to APS in 2014. Boubacar is one of the most experienced beneficiaries of the project in Senegal. Fact checking is generally of more interest to young people, but, thanks to his hunger for knowledge and sharing ideas, "BK" is one of the most enthusiastic and involved participants."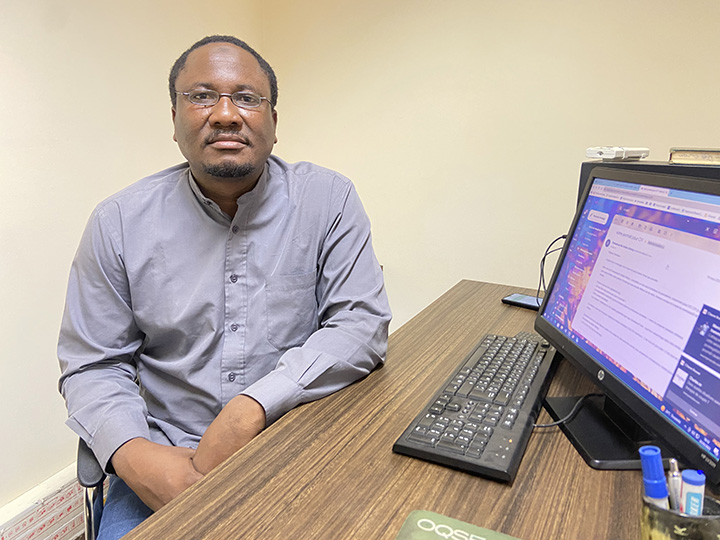 Humility
Can he accept being taught by his former intern? Of course, it's easy for Boubacar Kanté: "Fact checking helps me to review everything I've done over the years. It requires humility to become a student again and walk away with new tools. Fact checking also allows me to stay on top of the facts, cross-check information and provide explanations." At APS, four staff members are working to maintain a section dedicated to fact checking, despite recurrent issues when it comes to accessing information.
Amadou Samba Gaye shares his appreciation: "Since completing his fact-checking training, Boubacar has been drawing our attention to certain figures and sources that need verifying and to whether information should be published or not."
One thing is certain: even though he is now responsible for fact checking and for the APS magazine, "BK" is still just as passionate about sharing his love for journalism and writing. "When I read something a colleague has written, I give them feedback so that they can do the best possible job. I see problems encountered in writing as equations to be solved," explains the scholar, who is finally coming around to the idea of maths.
In ten years…
His colleague, Elhadji Souleymane Faye, is sure that in ten years, Boubacar Kanté "will be exercising key functions or, since journalism can take you anywhere, will end up in communications or public relations."
Diamé Signaté, a childhood friend of "BK" disagrees: "I think it's more likely that he will become the managing director of a newspaper or of the APS. He knows the agency well and could share his knowledge with more junior employees."
His line manager, Amadou Samba Gaye, news and content manager at APS, seems to be of the same opinion: "Boubacar is a well-rounded and accomplished journalist. He could be managing APS or another media outlet."
Valdez Onanina, "VO", a former employee of the agency, has a similar idea: "In ten years, Boubacar could head up APS and boost the reputation of the agency. He understands the challenges of our profession as he is a journalist at heart."
Accustomed to avoiding the spotlight, "BK" takes the attention away from himself: "Given the chance, everyone wants to make the most of their skills, experiences and ideas, particularly if that means managing the media outlet they have been part of for their entire career." However, the enlightened journalist has another dream: "In ten years, I would like to hand down books to my children. My taste for poetry comes from my sensitivity. The late Lucien Lemoine from Haiti, our radio diction teacher, a poet and a scholar, made me promise that I would never be ashamed of it."
Perhaps this could be the start of an exciting new chapter.