Around 20 young people from the Balkans in an incubation session for their media projects in Paris
From 8 to 12 November 2021, 21 young online media project leaders from six Balkan countries — Albania, Bosnia and Herzegovina, Kosovo, North Macedonia, Montenegro and Serbia — met in Paris for five days of incubation to be supported in the development of their initiatives. 
Some of them were students, others were working young people, all of them are driven by the desire to have a positive impact on their society, in relation to subjects linked to gender equality, ecology and local information, where traditional media outlets have little presence, or even the empowerment of young people, by promoting a citizen-minded approach.  It should be noted that women in particular were encouraged to take part in the session: nearly 75% of the participants were women aged 18 to 31. 
Carried out in partnership with Médianes, a strategy and creation studio dedicated to media outlets, this incubation covered different issues — at editorial level, the development of projects using new media or formats — as well as economic models or marketing and communication strategies. Through practical exercises, these YouTubers, bloggers and podcasters were able to give their projects greater depth and find answers through contact with the French experts invited to the session.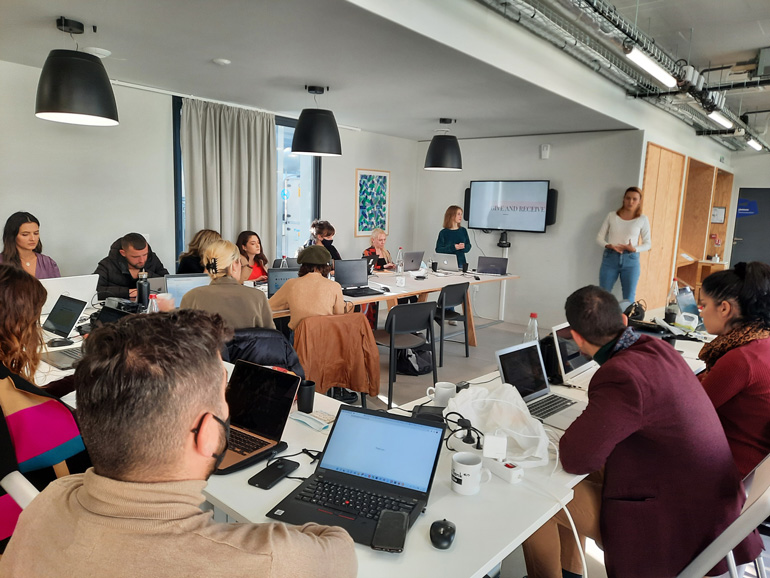 Personalised support
Asked about the benefits of this experience, Rea, a 23-year-old blogger from Albania, said: This incubation week has been a great experience for me. I loved learning more about content creation and feel very fortunate to have met all these media collaborators. The sessions were very interesting, especially the one related to the economic models from which I will benefit greatly. 
Djellza, a 19-year-old political science student from Kosovo stated: I am already in the process of applying this knowledge in my project. The information I received has helped to clear up my confusion. I now have a clear roadmap that I intend to follow. 
The experience will not stop there. Twelve young people will be selected for personalised support in carrying out their project. This mentoring programme, led by CFI and Médianes, will enable us to be present and offer mentoring that is targeted to their needs and can meet each challenge they encounter. 
Generating contacts and sharing experiences
The goal of this week and this mentoring programme is also to create a network of young people involved in online media in the region for them to share their aspirations and build a community based on solidarity. This has been achieved, as confirmed by Jovana, the manager of a platform originating in Serbia which, likewise, aims to promote the networking of young Montenegrins: I met amazing people and was able to make contacts and share our experiences.
This incubation week was carried out within the framework of the Balkan Voices project, which aims to give the young people of the Balkans tools to express themselves freely on subjects about which they are passionate, through the creation of educational tools, skills-building programmes and audiovisual production support. It is financed by the French Ministry of Europe and Foreign Affairs, in collaboration with the French embassies of the countries where this project is being implemented.