Alexandra Tchuileu Ngangom: an exacting and altruistic journalist
33-year-old Cameroonian Alexandra Tchuileu Ngangom is a passionate and exacting journalist, engaged in the community. She has conducted investigations into girls' schooling, is working on a digital platform project for children with disabilities and she certainly doesn't shy away from matters that affect public interest.
Profile by Emmanuel de Solère Stintzy.
Born on the first day of the year, the path to top was almost already laid out for Alexandra Tchuileu Ngangom. "At school, she always came first or second. Whether she was the head girl or deputy head girl of the class, public speaking came easy to her", recalls her younger brother Ralph Nsiazugh Ngangom. "In my first year of nursery, my little brother and I put on a play! I never had stage fright. A few years later, I wanted to be a TV presenter so that people would listen to me", Alexandra confidently and calmly confirms, looking me straight in the eye.
To achieve her goals, "Lexy" goes for it "100%, without any fuss". And it works! In 2010, she obtained a professional degree in journalism, and in 2014, a master's by research degree in information and communication sciences at ESSTIC (l'École supérieure des sciences et techniques de l'information et de la communication — university for information and communication science and techniques) in Yaoundé. She surprised her teachers there. "Alexandra didn't wait for the professor to teach her. She was already passionate, bold and exacting. She went off the beaten track and approached difficult subjects. She then worked in radio, written press and TV. Today (Editor's note: since 2017) she works as a journalist for Cameroon Tribune, a major daily national newspaper, but I think that she is unable to live up to her full potential there. She should work in a more non-conformist environment", says Dr Emmanuel Mbede, a professor at ESSTIC.
Data and solutions journalism
Yves Atanga, editor-in-chief of Cameroon Tribune, does not seem to want to part with his rare gem of an employee: "Up-beat and full of life, Alexandra first did an internship as part of our editorial team (Editor's note: 2009 and 2010). An insightful journalist, she knows how to find unique angles and is remarkably successful in the field. But she would be even better if she expressed her views in her writing more, because she has so much personality!" Alexandra Tchuileu Ngangom does not shy away from personal challenges and seems ready to take on this challenge: "I like the depth and precision that is required by written press. It makes sense to put current affairs down on paper. Written press is also embracing new approaches such as data and solutions journalism".
Thanks to two CFI projects, "Lexy" has made several discoveries: "In 2021, in association with MediaLab for Women, I gained experience in collaborative data journalism on gender, working together with colleagues from other media to carry out an investigation into girls' schooling in eastern Cameroon. Being able to see the people actually affected, rather than just dealing with data and vague concepts was a wonderful experience! I am currently the project leader of the "In-Valides" project, as part of Citizen Connections 2. My goal is to create a digital platform by April 2023 that gathers together information and training courses in Cameroon for children living with disabilities".
The little girl who dreamed of being in the spotlight and shining as a TV presenter has come a long way: "As journalists, our aim is not to gain personal recognition but to instead shine a light on other people and their problems". Dr Emmanuel Mbede is pleased how she demands more from her country: "Alexandra is very critical of her Cameroonian environment because she has international media sources. Sometimes I think I made her socially at odds with her environment!" The teacher says, laughing, clearly proud of his former student's "bold streak" and "guts". In any case, Alexandra seems deeply rooted in her home country.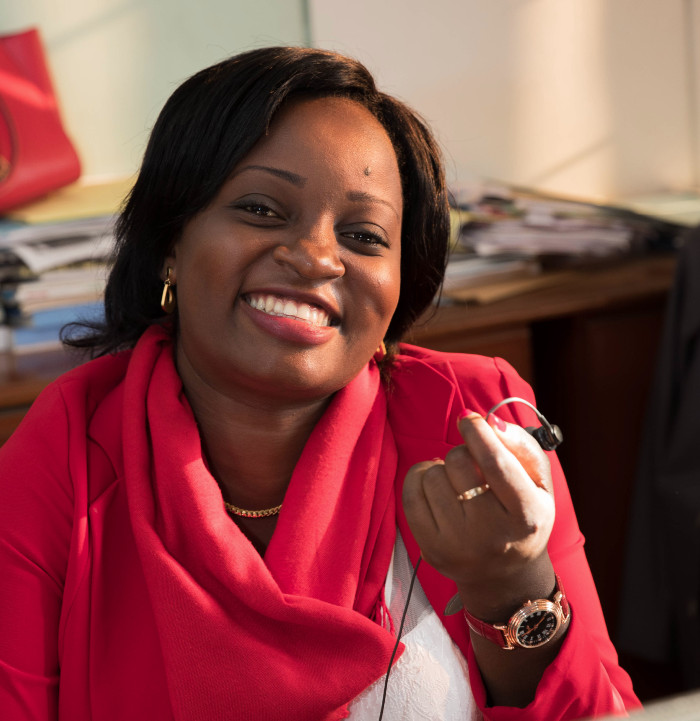 In ten years…
What will Alexandra Tchuileu Ngangom be doing in ten years? Her current editor-in-chief at Cameroon Tribune, Yves Atanga, thinks that she will "have become a versatile journalist, who is comfortable with all forms of media (written press, audiovisual content, the internet etc.). However, there is also a real risk of spreading yourself too thin… Alexandra would perhaps benefit from finding her path and concentrating on that". Her former teacher, Dr Emmanuel Mbede, advises her to "believe in herself and take the plunge": "Alexandra has all the experience and expertise to become a newspaper owner. Given her leadership skills, I can see her becoming the head of news room or of her own production company or joining a media outlet abroad".
"Lexy's" younger brother Ralph Nsiazugh Ngangom predicts almost the same thing for her: "In ten years, she will have travelled and discovered the world. She will be working in Cameroon or abroad. I know she can adapt to any environment". And yet, even when you bump into her in Cameroon between two of her trips abroad, Alexandra never hesitates in saying that she thinks she will stay here, in her home country: "I hope to keep travelling round the world, experiencing new things, forming partnerships and finding connections that I can put in place here in Cameroon. Perhaps I'll run my own company or work on editorial projects in a consulting firm. Or I'll keep reporting, going above and beyond writing accounts of people's lives, instead helping them and making a difference".