Rachid Assade Zongo, Chief Editor listening to young people
July 21, 2021
Rachid Assade Zongo, 31, is the Chief Editor of Jeunes Wakat, a constructive and civic-minded radio programme designed and produced by and for young people in different regions of Burkina Faso.
Profiled by Emmanuel de Solère Stintzy.
As a child, Rachid did not anger easily. He preferred to keep quiet rather than reacting, recalls Aboulaye Ouédraogo, a close family friend. Rachid Assade Zongo, now 31 years old and Chief Editor of the radio programme Jeunes Wakat in Burkina Faso, says: I was wary of strangers because my father died when I was 14. Raised by my mum and uncles, I used to struggle to build myself up.
At school, Rachid fought his shy nature and opened himself up to various activities by different associations: literary exhibitions and, already, a radio programme for young people: As a commentator, I spoke about our schooling, in particular. I liked to share useful knowledge with others.
Jeunes Wakat: "Young People's Time" in English After completing secondary school, Rachid Assade Zongo obtained a degree in law from the University of Ouagadougou, but in the meantime he never stopped broadcasting and writing for young people in the Burkinabe media. He is currently still a member of various specialised associations, in particular the National Youth Coordination for the Environment and Climate (Conajec).
Young people are sometimes seen as the future of a family and a country. It is normal to pay special attention to them! Tomorrow, I will be proud to say that I helped to build them!

Dobi Parfait Maré, a young writer and philosopher who, like him, is close to the National Francophone Commission (Commission nationale pour la Francophonie), notes: Rachid has invited me onto his programmes a lot. He is interested in reading, youth education and their civic engagement and leadership. The programme Jeunes Wakat (Editor's note: "Young People's Time" in English) is interesting because it presents young role models and deals with issues that affect them directly.
Radio, the ideal media format
Since July 2019, as part of CFI's MediaSahel project, Rachid Assade Zongo has, in effect, been We learn about the realities on the ground...the chief editor of this programme in French and in the national languages of the National Union of Free Audiovisual Media of Burkina Faso (Union nationale de l'audiovisuel libre du Faso - UNALFA): Our sections, such as "Portrait" (inspiring person or group), "The Facebook journalist" (humour), "And if we read?", "The coach's opinion" (contacts) or "Vox pop", are the result of requests made by young people. They can also react in the interactive part of the programme. In this way, we too learn about the realities on the ground, which differ from city to city and region to region in our country. I also appreciate having a young team that is dedicated to the task!
A team that includes a dozen people in the central editorial office, a dozen correspondents and 24 presenters from 24 partner radio stations in Burkina Faso. Rachid lets us speak and then he speaks. But he also knows how to impose himself and make decisions, for example, when choosing subjects for the programmes, says Maazou Ibriga, the Community Manager of Jeunes Wakat. Aïssata Sankara, the programme's editorial coordinator, sees development at both individual and collective levels: In recent times, Rachid has been very involved in the organisationWith Jeunes Wakat we have created a wake-up call of his team and the content of the programme. My help was requested a lot at the start, but the team is gradually becoming independent. It understands what it must do and how to do it.
This is good news for the passionate chief editor, who is more than ever convinced that radio is the most appropriate media format for reaching young people throughout Burkina Faso and enabling them to build themselves up.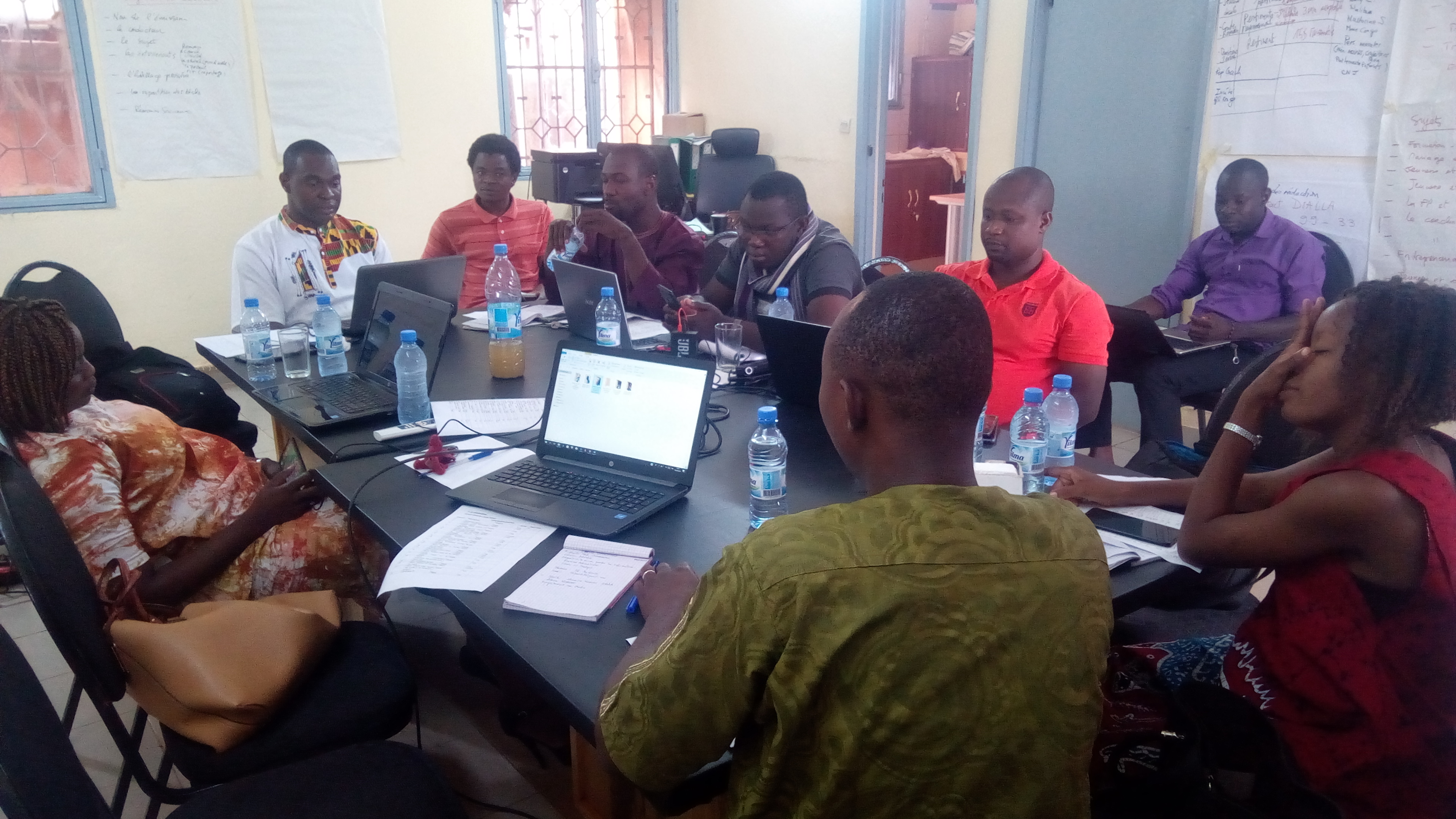 In 10 years...
Rachid Assade Zongo, Chief Editor of the programme "Jeunes Wakat", is open to all future opportunities: In ten years, I would like to remain in the thick of things as a radio or TV journalist or international correspondent, but also to learn and share as a trainer for CFI or as a manager of a media outlet.
Charlemagne Abissi, President of UNALFA and Rachid's manager, encourages him to develop his potential: In the future, I can see him being fully able to manage a large newsroom or become a trainer of journalists.
Those whom Rachid Assade Zongo now coaches at Jeunes Wakat also believe in the future of their boss: Rachid likes a job done well. He may lead an even larger team tomorrow or be a project manager, predicts Tiona Sanogo, the programme's production manager.
Wendpayengde Paule Gwladys Ouédraogo, a friend, sums up: In ten years, Rachid will be an excellent journalist as, due to his humble nature and openness to criticism, he is always learning.