Fatoumata Ongoiba: a radio host advocating for the rights of children
Fatoumata Ongoiba hosts programmes in Dogoso on a radio station based in Douentza (Mopti, Mali), an area impacted by the security crisis. In October last year, she made a two-day drive to participate in a training session in the basics of journalism offered by MediaSahel.
October 2022. Bamako. 795 km away from her home town of Douentza (in the Mopti region), Fatoumata Onboiga met three other young women. All four shared a passion for the radio. They have just attended a training session on the basics of journalism organised by CFI. Unlike her acquaintances, Fatoumata hosts only in Dogoso (a dialect of Dogon) on Dandé Duwansan, a radio station based in Douentza, an area that has been impacted by the security crisis for many years.
Love for the radio
Native to the municipality of Koubewel Koundia, about 12 kilometres from Douentza, she was quickly spotted by an organisation working to ensure food security in Mopti and recruited as a Dogoso-language host for the project. "I was given subjects to translate into our language. Every six months, we also went around a dozen villages performing sketches in the local language. It was this that made me fall in love with radio," recalls Fatoumata.
At the end of the project, the young host continued this work in her mother tongue on the radio station Dandé Duwansan. This time, she focuses on the children and women in her region. "I host the programme "Droits des enfants [Children's rights]" every Monday, Wednesday and Friday from 13:00 to 14:00 in two Dogoso dialects," she explains. With her powerful voice, Fatoumata Ongoiba very quickly won over listeners in the 13 municipalities of the region in which her radio station broadcasts. As a host, she does not shy away from any topics: activities of rural women, children's education, squalor, to name just a few.
She is also fearless in covering subjects that may anger certain conservative families.
"I cover subjects such as young girls dropping out of school, something for which, in our region, the rate is high. We have to talk about this, to address the causes and consequences of dropping out of education."
Fatoumata Ongoiba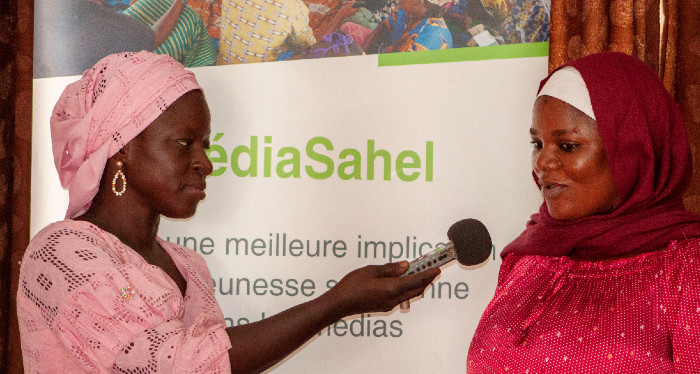 High expectations
At 27, Fatoumata attended her first training course on the basics of journalism, held from 24 to 28 October 2022 in Bamako. And she had high expectations, including to become a good host and to write a good article on radio reporting. "Fatoumata is courageous and wants to develop her hosting skills," says Mohamed Idrissa Touré, Programmes Director at Dandé Duwansan, with pride.
Over five days, she and the other journalists and hosts from Bamako and Mopti learned about the different journalistic genres and formats, how to identify the source of information and how to choose immediate, useful, novel and interesting subjects. She now hopes to put these skills to good use to improve the content of her future radio programmes once she returns to Douentza.