Falilatou Titi - Investigative journalist in contrast
June 24, 2021
In Benin, in her investigative online newspaper Banouto, Falilatou Titi (28) likes to stay in the shadows to carry out her investigations and shine a light on the dysfunctions in the society in which she lives. Having been awarded the Jérôme Adjakou Badou prize in 2020, she has recently been in the spotlight.
Profiled by Emmanuel de Solère Stintzy.
I don't know if I chose journalism or if journalism chose me! jokes Falilatou Titi, a 28-year-old Beninese journalist with the investigative online newspaper Banouto. A reserved student, she wondered why she would want to be in a job that gives "so much exposure".
Mounirou Titi, her younger brother, confirms his sister's discretion and modesty: When we were children, Falilatou put up with all my tantrums. Even these days, if you offend her, she remains calm and silent. However, Falilatou Titi, a student who has been elected president of a multi-activity club, finds herself supervising her establishment's newspaper and proofreading the articles of her fellow students.
Finally, she obtained a degree in photojournalism, followed by a professional master's degree at the Higher Institute of Audiovisual Professions (Institut supérieur des métiers de l'audiovisuel - ISMA) in Cotonou. However, there is no question of switching to the other side of the camera: Being reserved, I didn't like to present the news, I would prefer to stay in the background to gather and process information.
Éléonore Martine Monhounso, who studied with her, recalls: Even for group work, Falilatou never gave up, even if it meant staying overnight! I used to say she had a "never say die" attitude!
Her discretion and determination naturally lead her to writing and investigation. Thus, almost from its creation in 2017, Falilatou Titi joined the investigative online newspaper Banouto ("Search, investigate, dig around and find for the people", in Fon).
At first, I thought she was going to do what most other women do when they do a short stint in the written press and then go back to TV, but her first few articles convinced me of her determination to get out of the usual workshop reports in the Beninese press. Falilatou is not afraid to seek out information on the ground, despite the difficulties, compliments Yao Hervé Kingbêwé, her editor-in-chief.
Staying the course
At present, Falilatou Titi manages her media team on certain investigative projects. She is also on the lookout for funding and collaboration opportunities. Banouto has improved its editorial output thanks to CFI's Naila (New players in African online news) project, she says. On a personal level, Falilatou is pleased to have been involved in the Benin Citizens' Dialogue project : For example, I learned the snail technique for contacting sources from the most distant to the closest. This allowed me to carry out more in-depth investigations.
Sometimes, however, her "over-emotional" nature gets the better of her: During my investigation into the mismanagement by the authorities of the funds received for certain administrative documents, I felt the suffering of the neighbourhood and village leaders, without salaries or offices, etc. With the moral support of the entire Banouto team, I came to my senses, as I had previously carried out a preliminary investigation among the aggrieved citizens.
She was awarded the Jérôme Adjakou Badou prize in 2020 for the "best investigative journalist" in recognition of this work.
Having been thrust into the spotlight on that day, almost in spite of herself, Falilatou Titi reacts with modesty: It gives me a sense of moral satisfaction to have brought this mismanagement into the public arena, together with the poor living conditions of the neighbourhood leaders. Receiving such a prestigious award after just three years in the profession is a coup for me. Now I have to stay the course!
Dazzled by the spotlight, Falilatou is eager to return to the shadows to carry out her investigations so as to bring the news to decision-makers and help improve the living conditions of our fellow citizens.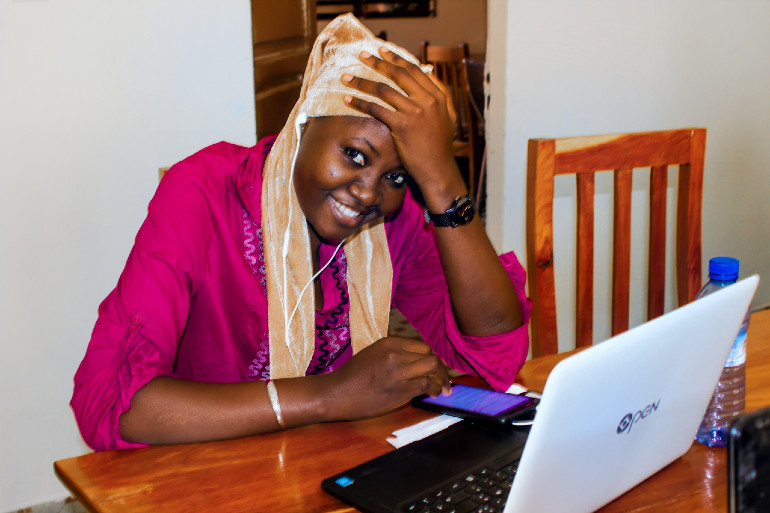 In 10 years...
Her university friends laugh about it... In ten years, some of us see Falilatou as Benin's Minister of Communication! However, unlike some of us who have given up on journalism, she is hooked! I can see her going a long way in the profession predicts Éléonore Martine Monhounso. Falilatou Titi turns down the invitation to enter politics and reiterates: I don't like being in the spotlight! At present, I can't imagine being anything but a journalist!
However, Mounirou Titi, her younger brother, who knows that she is hard working, a fighter and a perfectionist, believes that in a few years' time, in any event, she will have made a name for herself due to her investigations.
Yao Hervé Kingbêwé, editor-in-chief of Banouto and himself the recipient of the Jérôme Adjakou Badou Prize for best investigative journalist in 2017, expresses the same desire: When we launched our media outlet, we had no resources, but Falilatou stayed with us. She loves journalism! In ten years, she may have won six or seven more awards for her work!