Bounheng Southichak, Listening to Laos
March 29, 2021
15 Young Laotians Have Made Videos on the Environment Issues Facing their Country for the Mekong: Sustainable News Project. A Dive into Green Issues, Supervised by Bounheng Southichak, the Director of "Lao Youth Radio", a Major Source of Support and a Springboard for Young People.
Profiled by Éléonore Sok.
When he was younger, Bounheng Southichak dreamed of being a businessman. Just like his mother, who ran a shop in the suburbs of the capital, where the youngest of five siblings grew up. But the little boy always loved the newspapers that his father, a teacher, brought home every evening. It was by looking at the pictures and translating the unknown words that he learned English.
At the age of ten, Bounheng flew abroad for the first time: to the USSR and its vast snow-covered landscape, the exact opposite of his small tropical country. The taste for travel would never leave him. After high school, he studied agro-industry in Thailand, before heading to Japan for a master's degree in civil engineering, followed by a PhD in climate engineering.
"When I finished my studies, I was tempted to live in Japan, but I missed my country", confides the 43-year-old father, whose small glasses give him a serious look, contrasting with an Asian crooner's tousled hair.
On his return to Vientiane, Bounheng worked as a consultant, conducted environmental and social impact studies for the private sector and later taught these disciplines at the university.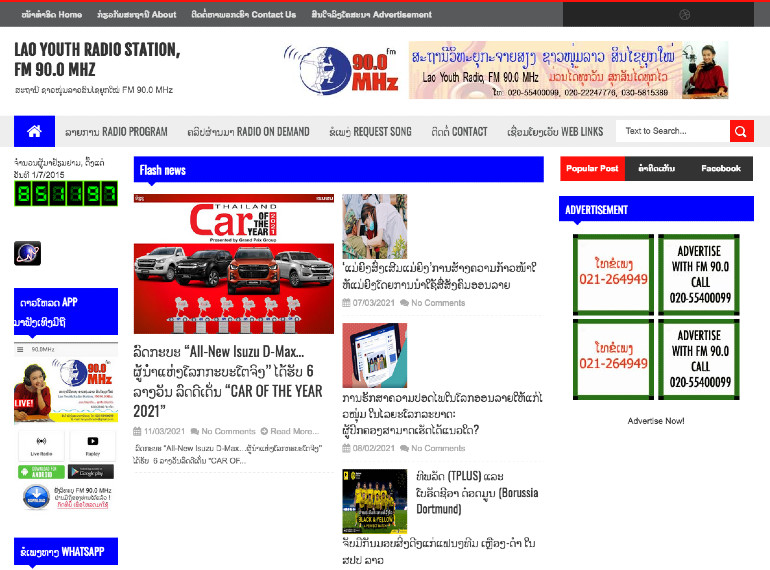 A Platform for Young People
In 2013, Bounheng dreamed of a fresh start.
He wanted to set up his own media outlet and took an interest in radio. At that time, Laos had five "traditional" radio stations. The newcomer wanted to shake up the industry. "I focused on the young generation because, in Laos, we have a lot of young talent but no platform to make them heard", he says. AfterI want to inspire young people to do what they love, that's the most important thing for me. receiving the necessary approval from the government, he founded Lao Youth Radio, in 2015, under the aegis of the "Lao Youth Union", the youth wing of the Lao People's Revolutionary Party, where the station's premises are located. The station FM 90 provides slices of news and entertainment.
"Our topics range from local development to international news, educational opportunities, talk shows and advice", he explains. Lao Youth Radio is quickly building an audience; its Facebook page now has 280,000 followers. All of the popular people in Laos come onto our station", boasts Bounheng. This does not exclude older people, as the station's motto is "For the Young and the Young at Heart".

So, what do young people in Laos aspire to?
"Above all, young people in Laos are faced with the challenge of unemployment and are looking for their place in society. Young people are quite reserved, they are not quick to speak up and may have little perspective when it comes to the news". Hence the importance of real media education, particularly in relation to social media, which has seen the emergence of bloggers and YouTubers in recent years. "I want to inspire young people to do what they love, that's the most important thing for me."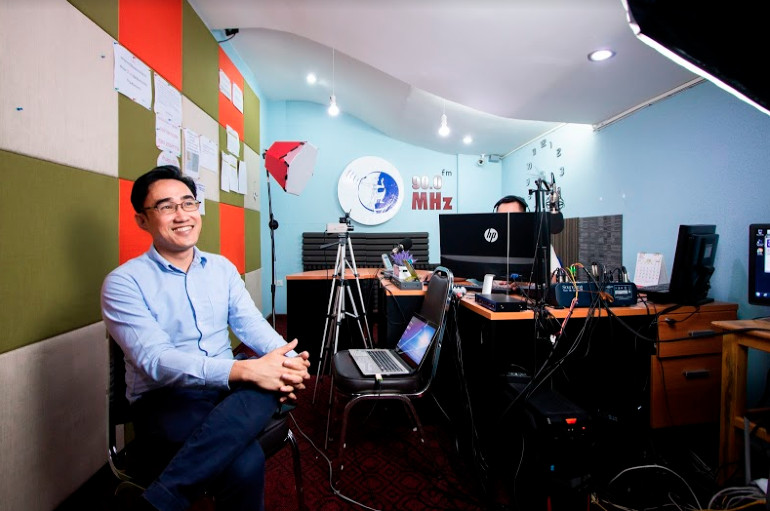 Making the Most of the Agricultural Potential of Laos
This polyglot, who is fluent in four languages, uses his experience to bridge the gap between local and international realities. He coordinates the Mekong: Sustainable News project, launched by CFI, which aims to train 15 young Laotians. "Some of them come from government radio stations or newspapers, others are civil servants in communications", he says. Each trainee is responsible for two stories on the impact of climate change. This is a sensitive issue in Laos, where access to scientific data is limited.
"We work with a network of NGOs that work with the government and share data and research with us, Bounheng explains. "We decided to use the video format, producing content 3-4 minutes in length, because here more than 80% of the population gets their news from a smartphone and only 20% use newspapers or the radio".
The participants underwent three days of training and then went out into the field, in the "green lung" jungle area in the north of the country. "For example, we produced a video on slash-and-burn farming of maize and kidney beans, meeting producers who are learning the principles of agro-ecology", he says. This experience made the trainees more aware of the agricultural potential of Laos.