Abdoul-Razak Idrissa: Journalist. Half Rambo, half Kirikou
April 23, 2021
In Niger, Abdoul-Razak Idrissa, 37, is a radio journalist and journalism instructor. A seasoned professional, he is valued for having the keen perception of Kirikou and the uninhibited character of Rambo, even when interviewing well-known figures.
Profiled by Emmanuel de Solère Stintzy.
As a child, Abdoul-Razak Idrissa loved both Kirikou and Rambo.
The first, small in stature, because he is very clever and manages to overcome almost any obstacle. The second, a real strongman, for his bravery and courage. But back then, Abdoul-Razak was, above all, an ardent radio fan:
"In Niger at the time, there was just one public media outlet, but I never wanted to miss even one news bulletin. I knew the names of all the news readers. I even started copying them. For us out in the rural regions (editor's note: in Dosso, 140 km east of Niamey), this was also an opportunity to find out what was happening in the capital".

As soon as he had finished his baccalaureate, Abdoul-Razak Idrissa naturally moved to Niamey to study journalism at IFTIC (the Information and Communication Technology Training Institute) for three years. Despite usually playing the part of MC or DJ at parties with friends, radio was a challenge for him: I was quite shy, but I wanted to follow through with my decision; I didn't want to let myself down. And then, I got good feedback from my first internships.
No report is worth a life!
Ali Idrissa, Director-General of Radio-TV Labari, who has known Abdoul-Razak since the start, recalls: "He went out a lot. He wrote elaborate papers, was calm when presenting the news, and stood up to well-known figures when interviewing them."
The courage of Rambo, but with the curiosity of Kirikou... "Abdoul-Razak has become an excellent journalist, but he has kept his ear to the ground. Polite and kind, he still calls his more experienced colleagues for advice", says Djibril Seydou, an "elder" in Niger, with 20 years' experience in journalism and communication.
At 37, with 15 years in the media behind him, Abdoul-Razak Idrissa is still up for hard-hitting interviews or to provide advice for the young workers at Radio-TV Labari. However, he now dedicates most of his time to his activities as Niger correspondent for VOA Afrique (Voice of America) and as a journalism instructor.
"With CFI, I took two 'train the trainer' courses in Burkina Faso before becoming an instructor in 2019 as part of the Sahel Dialogue project. Thanks to these experiences, I feel I can be of more help to my colleagues", he enthuses.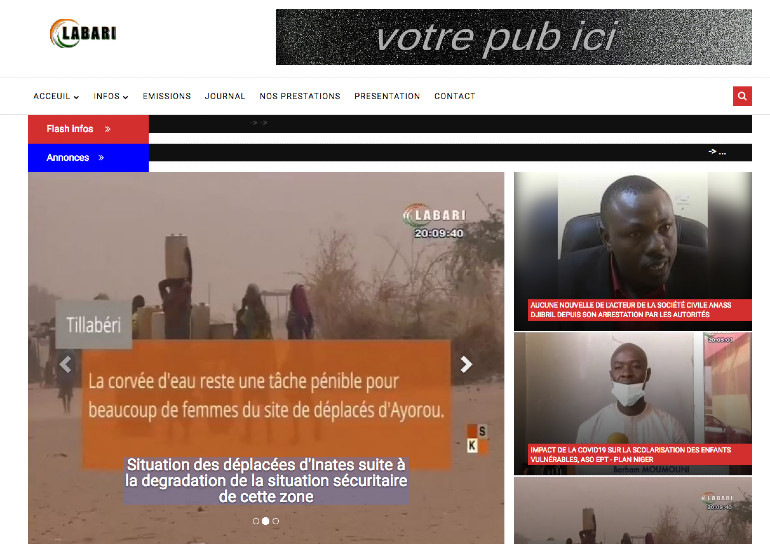 Because, in a country almost entirely on France's travel red list, Abdoul-Razak personifies journalistic rigour: "Nobody forced us to choose this career! We have to inform the public, irrespective of our own financial insecurity. I would also tell young people to work out which subjects are sensitive and the precautions you need to take... No report is worth a life! You have to be alive to provide the information!"
Even a Rambo fan can urge caution...
In 10 years...
What will Abdoul-Razak's day-to-day routine be like in 10 years' time?
"Without a doubt, it will involve more teaching than journalism", he believes: "I feel right at home with my instructor's hat on!" Djibril Seydou, with his many years' experience in journalism and communication, is of the same mind: Abdoul-Razak is growing as a journalist instructor.
He has been sharing his knowledge since the end of 2019, especially in his role as Chair of the Journalists' Association for Safety and Migration: "The association has about ten specialist journalists involved as active members. We have already disseminated an ethics charter for media coverage of migration among our colleagues. In the future, we want to conduct joint surveys. When it comes to these cross-border issues, we will be more effective if we work as a network in Niger, West Africa and even beyond!"
Abdoul-Razak Idrissa is ambitious. And does he one day want to pursue a political career like other journalists before him? "Never! I want to do things differently to improve the situation in my country."