Three questions for Bénédicte Dero Korndo, a journalist from the Central African Republic
We meet with a young woman who has had a passion for journalism since childhood, who fled to Chad to escape the war in the Central African Republic, going on to become editorial secretary at Radio Réveil FM, an Afri'Kibaaru partner.
Born in Paoua, Bénédicte Dero Korndo has been living in Chad as a refugee since 2003. Having settled in a camp in Amboko in the south of the country – where she still lives – she received a scholarship from the United Nations High Commissioner for Refugees (HCR), which allowed her to earn a degree in journalism. An advocate for female refugees, she became president of their committee within the camp in 2019. She joined the first privately run radio station in Goré (Shi Madji) as a host and producer before going on to become editorial secretary at Radio Réveil FM in 2021.
What sparked your interest in journalism?
Bénédicte Dero Korndo: It was a question of passion. I was interested in the radio and journalism from a very early age. In my country, there was a mother who was a journalist on the radio, Marth Ngombé, who always impressed me with her work, a programme dedicated to culinary art. It was her voice presenting the programme that fascinated me more than anything.
What are the two main ways in which Afri'Kibaaru contributed to your way of working?
The training helped me in particular with the practical elements of journalism, especially with information processing methods and how to apply them in the field. I also learnt that the real subjects are those proposed by the journalist based on the realities being faced by their entourage and by their listeners. These kinds of subjects fit well with the themes of the SDGs. For example, I could talk about the importance of income-generating activities, family farming, sanitation within refugee camps and girls' education.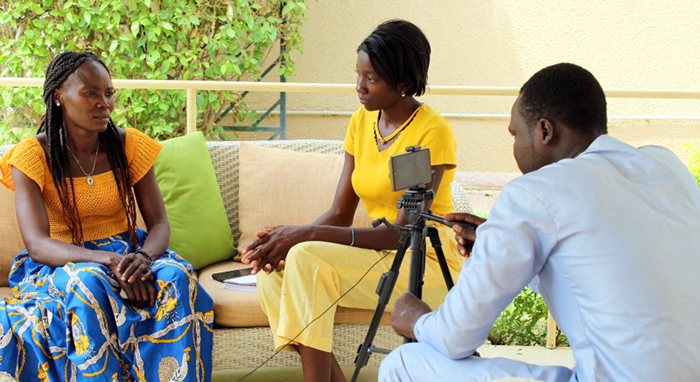 What challenges do you think you will be able to overcome now?
I want to develop a programme dedicated to improving the living conditions of women in refugee camps. The idea is to encourage them to take care of themselves and their children's education rather than waiting for help from NGOs, which rarely visit the camp. Girls' education is a subject that I want to address more and more.