The resilient journey of Boubakary Abdoulaye
From Djibo to Dori, and from the mines to the world of journalism, Boubakary Abdoulaye's career has hardly been smooth sailing He has now found his true calling at Radio Kawral.
Boubakary Abdoulaye's school days were short lived. Shortly after dropping out of school, the native of Djibo, Burkina Faso, entered the world of work in 2009, working as a labourer at a nearby mining site. But a lack of qualifications hindered his progression. And he clearly had loftier ambitions. "I went back to school three years later and finally got my BEPC [qualification equivalent to a GCSE] in 2015", he explains.
"Almost immediately after this, I was in charge of the sound systems at events held in Djibo. The RLCD radio station was looking to hire a technician. Presenting is something I have found fascinating since I was a boy, so I jumped at the opportunity and joined the radio team", explains the 33-year-old host.
The arrival of a new director at RLCD in October 2015 turned Boubakary's career on its head.
"Josué Sanou gave me the opportunity to become a presenter. As soon as he stepped through the door, he insisted that every member of staff try their hand at hosting", he recalls. With a hint of pride in his voice, he adds that his former director said he had a voice for radio.
"I went from being a technician to a presenter without undergoing any training!" RLCD's MediaSahel affiliation meant that he received training on basic fundamentals, interactivity and journalism sensitive to gender and conflict.
"A week of sleepless nights"
His adventure was but brief.
RLCD was forced to shut down in 2020.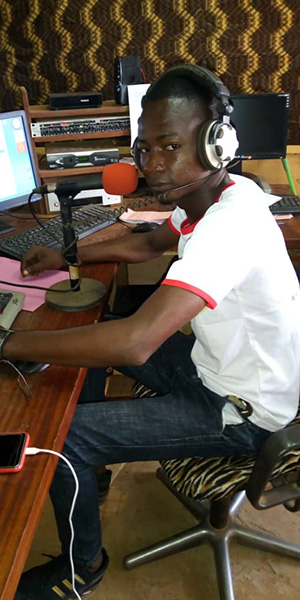 "Our programmes had changed drastically before the radio station was shut down. We were no longer able to broadcast our main programmes, and particularly programmes about family planning. We had lost our main sources of funding because of the crisis, particularly an advertising contract with a telecommunications company that had discontinued local broadcasting. These funds made it possible to pay radio staff. The radio station shut down when these contracts were severed", explains the presenter.
The times that followed were tough. Roads providing access to and from Djibo were closed, which meant he was forced to stay in the town, without a job. He had to wait 16 months before moving to Ouagadougou with his family. However, yet again, there was no respite.
"The convoy I was in was attacked and there were many casualties. I arrived in Ouagadougou with my family but the events left me traumatised. I suffered a week of sleepless nights because of what we had been through. I managed to come to terms with the experience afterwards." He used his contacts to find a job and support his family. An opportunity eventually arose.
"I saw a job listing posted for Radio Kawral in Dori, which was looking for a Fula-speaking presenter. I also met the age criteria. After applying, I joined the team."
"He gave me training on journalism sensitive to gender and conflict, which was provided through the MediaSahel project. Right now, I am able to apply what I have learned from this training in order to develop." He might not have enjoyed school, but Boubakary's journey continues.