Ramatou Thiombiano: At first, I wanted more men than women in my editorial office
Ramatou Thiombiano is the deputy director of Niger 24, a Nigerian media group. Now, thanks to MediaSahel for Women, she wants to support women in her editorial office, which she did not do before.
"Until December, I didn't see a great deal of potential in women, even though I was a female manager myself!" Ramatou Thiombiano admits to belonging to a generation that holds a number of stereotypes about women. The 46-year-old deputy director of Niger24 admits that in Africa "it's difficult for men to accept being managed by women".
Ramatou counted herself among those managers who had reservations about women in the media. "I wanted to promote women, but the women in my team were always making excuses. Sometimes it was a sick child, other times a sick spouse. They were failing to meet their commitments. I wanted them to get involved in the same way as the men". She continues: "they were always reluctant to go out in the field. Not like the men who were motivated," she explains.
After five years at the helm of Niger 24, a time marked by disruption and pressure, her assessment is bleak: women's commitment to work was minimal. "We were only able to rely on men as journalists," she asserts.
"A woman from out of nowhere"
She remembers her first steps as a manager: "I was like a stranger, a woman who had come from out of nowhere to lead men". This situation upset her a little at the beginning. "It was traumatic at first, but what mattered to me was that I rise to the challenges and establish sound management and a viable media company," she adds.
Although considered authoritarian or even incompetent by some of her employees, her leadership is actually sought after within the company. She will remain in post. She is grateful for the support. According to her, in Niger "the ability to trust a woman requires dignity and generosity, even if she is deserving of that trust". However, this did not change her perception of women in the workplace.
In December 2022, she was invited to share her experience of being a media manager during a "gender-sensitive management" training session held in Niamey as part of the MediaSahel for Women project. Two hours of discussions with the participants and the trainer, Karim Djinko. Something just clicked. "I realised that I have a role to play as a leader in order to change the situation of women in the media".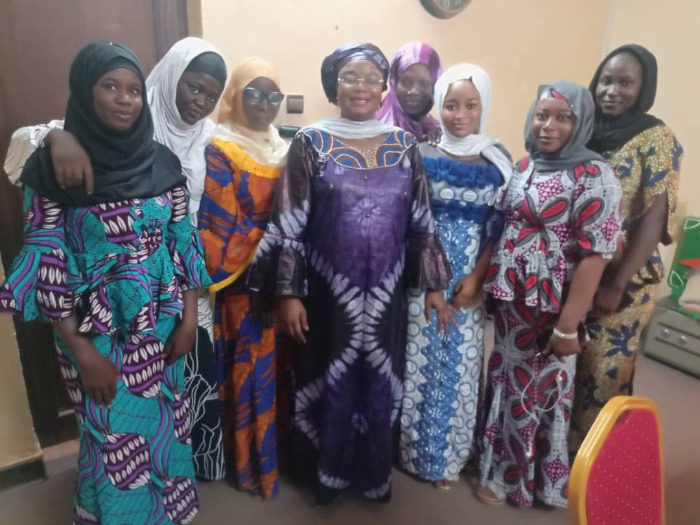 Change in perception
In the days that followed, this woman who had dreamed of becoming a magistrate or an international relations specialist before becoming a journalist sprung into action. "I was looking for two men and a woman to increase my workforce," she explains. "What I experienced in the training session ultimately enabled me to offer the same opportunities to both men and women. I ended up recruiting two women and two men. I also agreed to take on female interns. I would normally have refused. Today, my editorial office employs five men and seven women," she states, proudly.
Ramatou is pleased that she was able to change her opinion. She is now helping these women to build their self-confidence, to develop their skills and to fully invest themselves in their careers as journalists. "Three months on, I am still happy with my decision. They have risen to the challenge of sending their topics on time and doing them justice," she concludes with a satisfied air.