Arsène-Jonathan Mosseavo, a heavyweight journalist and trainer
Arsène-Jonathan Mosseavo, 48, has become a renowned journalist and trainer in Central Africa. He is humble and works tirelessly to improve so as to better reach the youngest members of society. His advice is to step out of your comfort zone and not simply take that per diem payment... Profiled by Emmanuel de Solère Stintzy.
A real heavyweight. Almost 2 metres tall, not far off 100 kilos and a voice that makes whispering impossible... At first glance, it's clear to see how the Central African, Arsène-Jonathan Mosseavo, 48, got his nickname "Gros calibre" [heavyweight]. Raised by his grandfather, a diplomat, Arsène spent a good part of his childhood and adolescence in neighbouring Cameroon: That's where my passion for journalism comes from! I was interested in the media and theatre. I was always acting the comedian and my friends said 'you'll make a good presenter!' Years later, his childhood friend from Yaoundé, Thomas Djonou, still laughs: "He was very funny and a really good cartoonist!
However, life has not always smiled on Arsène... When his grandparents died, he found himself without any support and twice failed the Baccalaureate. Yet his luck changed when he became a correspondent for Radio Notre DameI learned how to be rigorous in covering the news (RND). He then joined the central newsroom in Bangui: One day, I'd written that the parish needed 'media recovery' instead of 'media coverage'! And the first time I presented the news, it was a catastrophe! My senior co-presenter helped me with gestures...
But he learned from his mistakes and became editor-in-chief of RND. He loved his work and valued what his colleagues were doing. He taught me that a journalist should be curious, rigorous and reactive. I used his advice to draw up a roadmap for my career in this profession, explains Flora Sandrine Mbagna, former presenter at RND. Since then, Arsène has seized every opportunity to improve himself as a trainer: Thanks to the RFI sessions, I learned how to be rigorous in covering the news and, as a co-trainer with CFI (CFI Recovery and Stabilisation project in CAR, 2016-2019), I learned how to create magazines with different formats. Several community radio stations that have completed the training session have changed the way they create their programmes.
We are learning every day
Today, Arsène works as an "independent trainer" and coaches community radio stations for several organisations. He pushed me to move into journalism, as before I was just a technician. Now, I am a correspondent for his newspaper ''Lanoca'' (Les Autres nouvelles de Centrafrique [The Other News from CAR]). He continues to advise me and prompt me to stay professional, adds Bérenger Silvère Romaric Kouzoundji, technical manager at the radio station, Ndjoku Bayanga. "Our rules of professional ethics are like the Ten Commandments: we cannot betray them, otherwise we lose our credibility in the eyes of the public and of the young people we have trained," responds Arsène-Jonathan Mosseavo.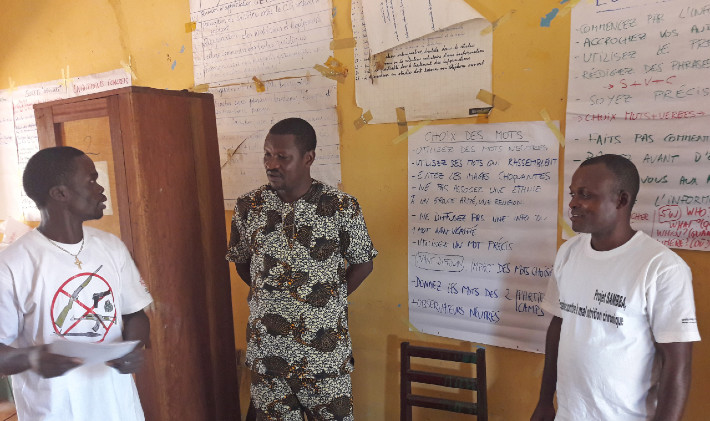 Since 2018, he has been running the blog Lanoca. Its articles, which are also available in hard copy, are dedicated to the positive community development initiatives for overlooked populations in the country's hinterland. It is a blog that has brought its promoter several awards (Merck Foundation, Central African Ministry of We have to seek out the true factsCommunications/Minusca) and opened doors to fact-checking and the digital world.
At an international CFI forum held in Cameroon in June 2022, we spoke of the importance of countering rumours by involving community radio stations and insisting on respect for the law, explains Arsène, who was inspired to take courses in law so as to bring new knowledge to his journalism.
In 10 years...
Arsène-Jonathan Mosseavo's career? Anything but a surprise! When I discovered that he was going to be a journalist, it wasn't really a surprise. As a child, he was always determined, he could never be idle! recalls his friend from Yaoundé, Thomas Djonou, before going on to say, in 10 years, maybe he will leave CAR and gain a better understanding of the profession in another country?
Bérenger Silvère Romaric Kouzoundji, technical manager at the radio station, Ndjoku Bayanga, has almost the same prediction: I see him as an international trainer for journalists in other countries in Africa, or maybe even Europe. And, in terms of Lanoca, I see it hiring staff, having its own offices. Arsène himself hopes to continue striking a balance between journalism and training, even though one will undoubtedly take the reins...: As a journalist, I hope to have a small team at Lanoca to allow me to step aside for the youngsters and take an advisory role. But I will also continue to train. I want to get better so that I can share my knowledge. It's like a chain: each link supports the others.